The holiday extravaganza continues! The Triangle area is so amazing with the variety of holiday themed activities that are available, especially if you are ok with driving to your fun. So, throw on a coat, pack the kids in the car and pick one of these fun events!
Nutcracker On Ice!
A holiday tradition for skaters of all ages and skill levels. The Orange County SportsPlex becomes a winter wonderland for this traditional take on the Nutcracker On Ice. Featuring youth figure skaters and celebrating the live ice skating show, you will find performances on:
December 20, 2019 6:00 pm-8:00 pm
Friday Dec. 20th at 6:00pm and Saturday Dec. 21st at 11:00am.
December 21, 2019 11:00 am-1:00 pm
Friday Dec. 20th at 6:00pm and Saturday Dec. 21st at 11:00am
Cost: $10 – purchased onsite at the front desk
Where: Orange County SportsPlex, 101 Meadowlands Drive, Hillsborough, NC
Come December 20th for a visit with Santa from 2-4 PM and stay for the performance!

When: Saturday, December 21st, 2019 @ 2 and $ PM 
Where: Historic Chatham Coucnty Courthouse 
Cost: Admission is a $5 donation to benefit Chatham Communities in Schools. Children under 6 are free.
See the trial of the century on Saturday, at the historic Chatham County Courthouse, where Santa Claus is on trial. Enjoy audience participation, local actors and the real Kris Kringle! Come root for a Miracle on Hillsboro Street!
Seating is limited, so advanced ticket purchase is encouraged.
Have your children write their very own letter to Santa telling him what they love about Santa Claus. Your child's letter might even be picked to be read at a showing!
Produced by the Phoenix Theater Group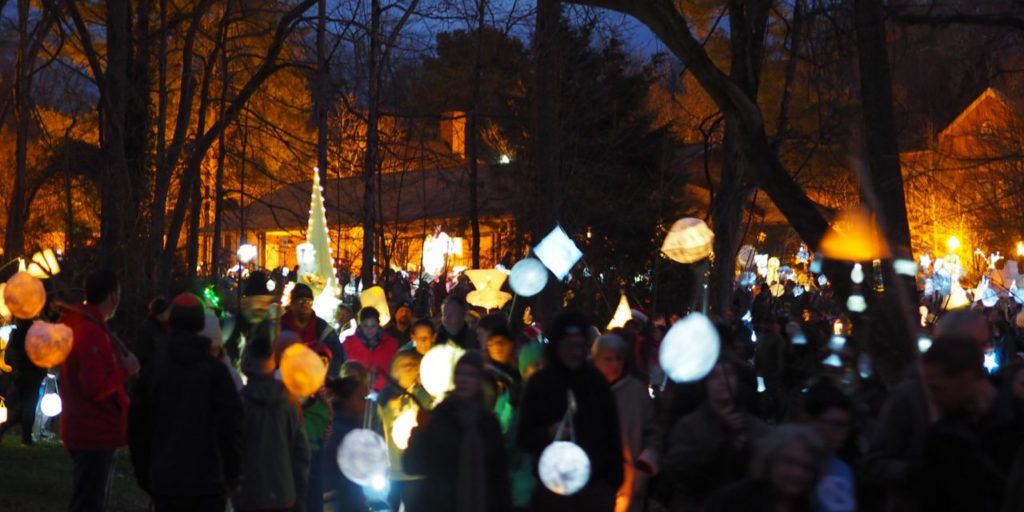 When: Saturday, December 21st, 2019, @ 5:45 p.m.
Where: The Riverwalk in Hillsborough
Cost: Free
This is a silent walk, honors the solstice or the shortest day/longest night of the year. To celebrate the beginning of the lengthening of daylight, individuals gather with their handmade lights.
It's free to participate in the lantern walk, but you need to register in advance, to help with planning.
Beginning at 5:30 p.m., all participants must enter the Riverwalk from the Farmer's Market Pavilion, 144 E. Margaret Lane, Hillsborough. All other entrances will be closed. The 30-minute walk will begin a 5:45 p.m.
If you simply want to watch, the recommendation is to watch from the Eno Parking Deck (behind Weaver Street Market). Only individuals with lanterns will be allowed to enter the Riverwalk.
Last minute gift ideas- The Carolina Inn Holiday Market
Enjoy a festive afternoon at The Carolina Inn with the third and final installment of their annual Holiday Market.
Where: The Carolina Inn, 211 Pittsboro Street, on UNC Campus in Chapel Hill
When: December 8th, 15th, and 22nd from 12 to 4 PM. Wander through 60+ artisan displays and find that perfect gift for friends and family. If you're an early bird for shopping than you can enjoy the Holiday Market Bier Garten where you can pick from over a half-dozen beers from Wicked Weed Brewing, their famous mulled wine, a hard cider, a signature cocktail, or some hot chocolate. Snuggle up with a hot pretzel or a fried dough in a quaint little place that will capture the sounds and scents of the season while providing a peaceful nook to relax after shopping or attending one of the 12 Days of Christmas activities. Bring the whole family…there is something for everyone!
Meet the vendors!
3rd Annual Feast of the Seven Fishes
Cost: $115 – $135
When: December 24 @ 4:30 – 8:00 PM
Where: Postal Fish Company, 75 Salisbury St, Pittsboro NC
Leave your wallets at home this year. Postal Fish Company's Feast of the Seven Fishes is all-inclusive. Seven courses paired with 5 wines. Dinner starts at 4:45 promptly, doors open at 4:30pm.
The Feast of the Seven Fishes is part of the Italian-American Christmas Eve celebration, although it is not called that in Italy and is not a "feast" in the sense of "holiday," but rather a grand meal. Christmas Eve is a vigil or fasting day, and the abundance of seafood reflects the observance of abstinence from meat until the feast of Christmas Day itself.
Today, the meal typically consists of seven different seafood dishes. The tradition comes from Southern Italy, where it is known simply as The Vigil (La Vigilia). This celebration commemorates the wait, the Vigilia di Natale, for the midnight birth of the baby Jesus.
The long tradition of eating seafood on Christmas Eve dates from the Roman Catholic tradition of abstaining from eating meat on the eve of a feast day.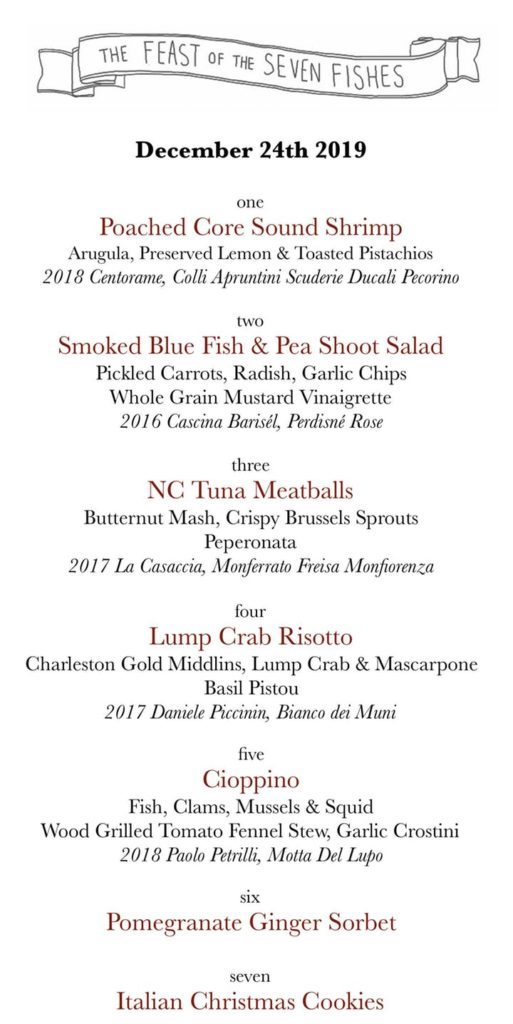 Lisa Skumpija can help with your Pittsboro, Chatham County and greater Raleigh, NC real estate. Living in Pittsboro, North Carolina and working onsite at the Chapel Ridge, Pittsboro, Fred Couples golf course community makes Lisa your local Chatham County real estate expert. Whether you are buying or selling a home in Chatham County, NC, Lisa Skumpija is a leading real estate agent and can make it a smooth process!