As we cruise into the week before Christmas, there are still so many Christmas events to be had! With the plethora of activities around the Triangle, here are a few close to home
The Pittsboro Roadhouse welcomes Breath Deep 2019
When: Saturday Dec 14th @ 8-10 PM
Where: Pittsboro Roadhouse, 39 West St, Pittsboro, NC 27312
Cost: Free
This is a Christmas Benefit Series with the sights and sounds of Trans-Siberian Orchestra. Admission is free but feel free to tip and food and drink is, of course available. All the tips and food/beverage purchages will have 10% going to Chatham Arts Council. Table reservations go quickly so if you want to enjoy with your friend(s) please give Pittsboro Roadhouse a call at 919 542-2432 or use https://www.yelp.com/reservations/pittsboro-roadhouse-pittsboro-2
Where: Starrlight Mead, 130 Lorax Ln, Pittsboro, NC 27312
When: December 14 @ 12- 6 PM
Cost: Free but with items for purchase
Come Celebrate "Pussmass" at the Goathouse Refuge.
Where: The Goathouse Refuge, 680 Alton Alston Rd, Pittsboro, NC 27312
When: December 14 @ 11:00 am – December 15 @ 4:00 pm
Cost: Free but with items for purchase
This benefit at the Refuge is to raise funds to support the work of the refuge in rescuing and fostering cats from all around the area. The Goathouse Rescue works to get adoptable animals out of shelters and into loving families at the holiday season and year-round. T-shirts, gift baskets, pottery, crafts will be for sale as well as refuge founder Signlina's teapots and sculptures. 50% off, plates 25% off!
Raffle winners to be announced.
First Prize: $10,000 Second Prize: $5,000 Third Prize: $1,000
Sunday, December 15th at 3pm
A Live eBay Auction will run from Dec. 6 – Dec.15 at 3pm, for a
one-of-a-kind 10 day stay at Hale Uluwehi Villa on the island of
Kauai, Hawaii! 2200sq ft, 2 bdrm, 2 bath, pool, spa, rock waterfall, lanai, and nearby beach! You could win the vacation of a lifetime!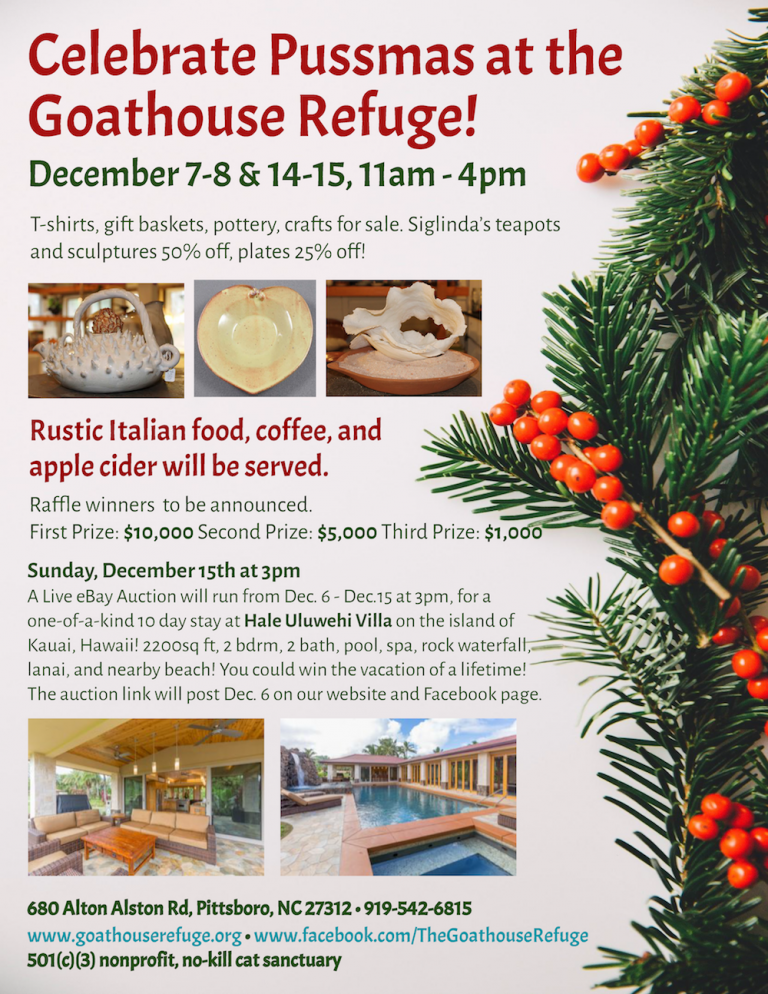 Gingerbread Decorating at the Root Cellar
Where: The Root Cellar Cafe, 35 Suttles Rd, Pittsboro, NC 27312
When: December 15th @ 3-5 PM 
Cost: $25
Tickets: https://www.eventbrite.com/e/pittsboro-gingerbread-house-decorating-party-tickets-81077540105
The Root Cellar in Pittsboro is hosting a gingerbread decorating extravaganza! This even will take place both on the 15th and the 22nd. Perfect family event as they will welcome all ages for the festive fun.
They will provide the fully-crafted house and all decorations…you bring the creativity and holiday spirit! Parents can participate or take part in the set-up process before kicking back with a beverage or dessert!
Note your ticket is per house! So, if two of you plan to decorate houses, you will need to purchase two tickets. See you there!
Caroling and Storytelling @ St. Bart's
When: December 15 @ 3:00 pm – 4:30 pm
Where: St. Bartholomew's Episcopal Church, 204 W. Salisbury St., Pittsboro, NC
Contact: 919.542.5679 or www.saint-barts.org
This free event welcomes all in the community to take part in Christmas caroling and storytelling at the church. The holiday fun wouldn't be complete without a visit from Santa. He is available for Family photos and selfies! Cookies and cocoa are also on the docket. 
Lisa Skumpija can help with your Pittsboro, Chatham County and greater Raleigh, NC real estate. Living in Pittsboro, North Carolina and working onsite at the Chapel Ridge, Pittsboro, Fred Couples golf course community makes Lisa your local Chatham County real estate expert. Whether you are buying or selling a home in Chatham County, NC, Lisa Skumpija is a leading real estate agent and can make it a smooth process!