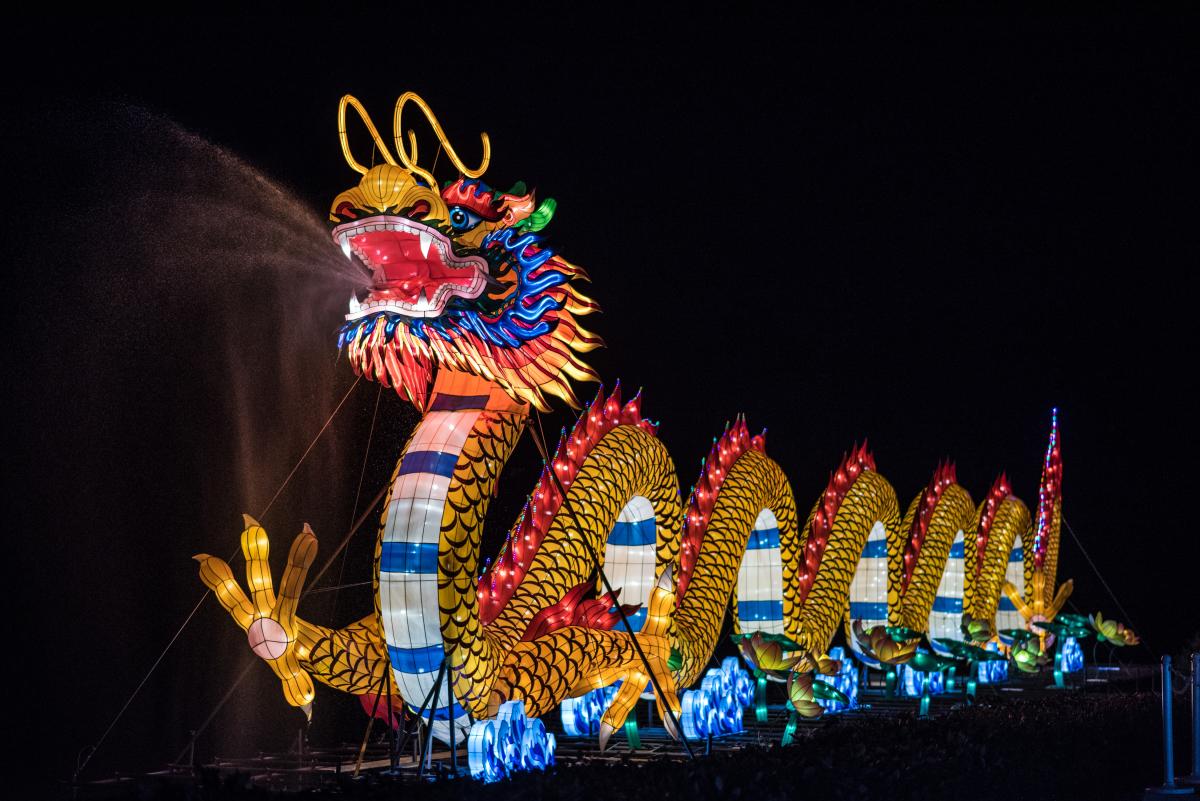 Happy New Year to ALL! It is always a little sad to wave farewell to the holiday season while it's still wintery weather (not the pretty white snowflake kind but the nasty dreary wet kind). BUT- never fear you can pretend the magic is still here by taking in another two weekends of the Chinese Lantern Festival!
The festival starts Friday, November 23 and goes through Sunday, January 13, 2019.  They are open Tuesday – Sunday: 6:00pm-10:00pm but closed Mondays.
You can find this special event (and many more) at the famed Koka Booth Amphitheatre in Cary.
Tickets are $10-15 a person.
The festival is quickly becoming an area tradition as it enters its third year of being in the Raleigh area. The lanterns are larger than full-sized and these impressive arrays are handmade by Chinese artisans who travel to the state for the event.  They are comprised of many complex pieces with each one containing thousands of LED lights. As in past ears the famed Chinese Dragon will be the feature point on Symphony Lake. This focal weighs more than 18,000 lbs and is longer than three school busses. This festival is only available at certain locations around the country and brings in thousands of viewers each year- a 100,000 in 2018 to be exact.
The event is to feature the beauty, craftsmanship and cultural significance of the art of Chinese lantern making. Lantern making is a traditional and generational skill dating back 2,000 years and in recent years has gained popularity for Chinese New Year's celebrations.
PARKING
Parking will be free of charge in venue owned lots.
HOLIDAY TREATS
Venue Concession Stands will be open selling a variety of food, beverages & Holiday Treats on the Crescent deck. This includes coffee (with Bailey's! for adults), beer and wine. Click here to view our FOOD & BEVERAGE menu.
PERFORMANCES
Cultural Performances will take place on the stage several times each evening,featuring martial arts, traditional dance, acrobatics, drum performances and more.
Weather Permitting.
Tuesday to Thursday: 7:00pm, 8:00pm, 2 performances.
Friday to Sunday: 6:30pm, 7:30pm, 8:30pm, 3 performances.
Tuesday, December 18 – Tuesday, January 1: 6:30pm, 7:30pm, 8:30pm, 3 performances.
Lisa Skumpija can help with your Pittsboro, Chatham County and greater Raleigh, NC real estate. Living in Pittsboro, North Carolina and working onsite at the Chapel Ridge, Pittsboro, Fred Couples golf course community makes Lisa your local Chatham County real estate expert. Whether you are buying or selling a home in Chatham County, NC, Lisa Skumpija is a leading real estate agent and can make it a smooth process!