What's shakin' this Saturday?? With only two more weekends to go before the big holiday there are still multitudes of sales and parties to be had. Here are some Durham events, you won't want to miss! If you haven't been to Fullsteam Brewing, you are in for a treat. The brewery provides a great atmosphere for those partaking in brews or not. The public open space is a great location to meet folks and practice holiday merriment.
A Very Merry Durham is a crazy fun filled holiday party hosted by Fullsteam Brewery in Durham on Dec. 15thfrom 6 to 8 pm.
There will be roving holiday carolers, a naughty or nice wheel (??!), appearances by the Holiday Gorilla, a very special Santa, the Poetry Fox, and live winter wonderland scene painting!
When the clock hits 8pm, a stage show produced and designed by the community's beloved Erik Lars Myers begins. Expect a Seussian story line, Durham's strangest and finest talent, and a "surprise" ending that will surprise no one!
And for those who want to party till' the reindeer come home, we'll have a post-show DJ set of cheesy Rat Pack Christmas music along with other fun 50s/60s holiday tunes. Kids are welcome for this rocking holiday party.
Following the craziness of the holiday party is a great shopping experience at A Very Merry Durham! Holiday Market!
Support local while finding those last-minute, hard-to-find holiday gifts for family and friends. And since it's the most wonderful market of the year, you can have all your gifts bought at the market wrapped for FREE- organizers warn the wrapping will of dubious quality.
A cookie baking contest judged by Phoebe Lawless (Scratch, The Lakewood), Fullsteam's Chef Ivan, and CEO Sean Lily Wilson begins at 2pm. You can enter two dozen of your finest family treats for a chance to take home a $50 Fullsteam gift card.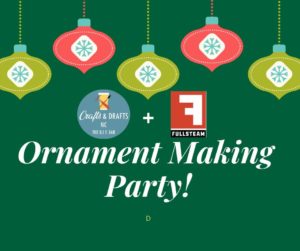 And if you just haven't had enough Fullsteam yet, come on down Monday the 17th for an Ornament Making Party from 7 to 10 PM. Courtsey of Crafts & Drafts NC – the beer will be plenty and there will be lots of opportunities to make ornaments of all shapes and sizes.
Each ticket is $20 and will guarantee a spot and 4 ornament craft kits. Additional kits can be purchased on site for $5 a piece, as inventory allows.
To catch some last-minute shopping head to Durham Village's 1stannual Holiday Market for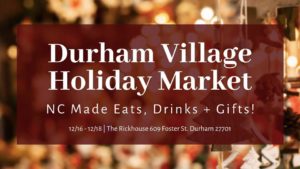 NC Made Eats, Drinks + Gifts!
This event will take place at The Rickhouse in the heart of the Central Park district of Durham:
Sunday, December 16th from noon – 4:00 PM
Monday, December 17th from 5:30 PM to 8:30 PM
Tuesday, December 18th from 5:30 PM to 8:30 PM
Sample independent food, beverage, and craft producers while you complete your shopping list. Each night will have a bar and different food truck vendors for you to enjoy!
Lisa Skumpija can help with your Pittsboro, Chatham County and greater Raleigh, NC real estate. Living in Pittsboro, North Carolina and working onsite at the Chapel Ridge, Pittsboro, Fred Couples golf course community makes Lisa your local Chatham County real estate expert. Whether you are buying or selling a home in Chatham County, NC, Lisa Skumpija is a leading real estate agent and can make it a smooth process!