Winter Storm Diego dampened a few folks Christmas spirit this past weekend by ending holiday markets early, canceling parades and trapping merriment seekers indoors for Sunday. But with the weather outside being frightful I am more excited than ever for the holidays! There are many events coming up this week for your Holiday attendance.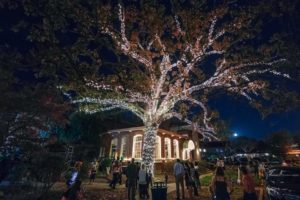 Thursday Dec. 13th@ 6 PM is the Carr Mill by Candlelight and Tree Ceremony. This event is sponsored by Carr Mill Mall, Carrboro Business Alliance, Tow of Carrboro NC, Oboz Footwear and Fjällräven – courtsery of Townsend and Bertram Company (TB&C).
The candlelight event will include a candle lighting ceremony where we gather together to strengthen the roots of our community and send love and light to our beloved grandfather Oak. This is a change from past years when lights adorned the post oak. However, the oak is in decline and cannot handle the weight of lights so hundreds of candles will serve as illuminaries to join community and bring light and love to the tree and season.
The evening will begin at 6:00pm with a performances by Second Shift A Cappella followed by Katharine Whalen Jazz Squad. Stroll Carr Mill By Candlelight, enjoy free hot chocolate and cider, TB&C's custom Post Oak IPA from Vecino Brewing Co., our custom coffee from Carrboro Coffee Roasters, and snacks. There will be amazing raffle prizes from all the stores you love in Carr Mill. TB&C will have a Fjällräven Trunk show and free waxing clinic to waterproof your gear as well as special gifts from sponsors Obz Footwear and Fjällräven. They are also launching a new Kombucha Bar with Boro Beverage on tap at the shop for you to enjoy while you shop! Come early to get a super cool Keen pint cup!
Check of the Facebook Page for more info.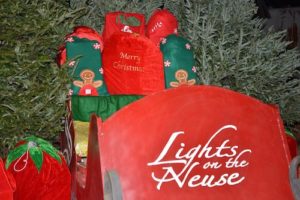 If you are looking for a fun light display check out Lights on the Neuse starting Friday 14ththrough the weekend. They provide ahayride around the farm with different light-based scenes, including an 3D Christmas barn. There will also be an cookie decorating station, sweet shop and Santa for the kids!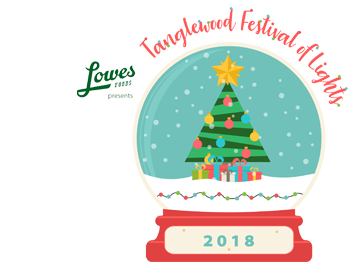 There are lots of other light displays to check out this weekend like Tanglewood's Festival of Lights. The rolling countryside of Tanglewood Park near Clemmons NC- just outside of Wintson Salem, is in its 27thyear of light displays. The over a million LED lights are strung in August in preparation for this fabulous display of winter wonderland delight complete with twinkling snowflakes and whimsical winter scenes. This light festival has numerous accolades including a top 20 for light shows in the Southeast and a top 100 in the country.
Each year they strive to make the show better and brighter with new displays and a wider variety of vendors at Holiday Gift Village.
In addition to the lights and gift village, S'moresville is a unique marshmallow cooking experience like none other. Located in the gift village, Lowes food will be selling roasting sticks with marshmallows or s'morse kits.
Schedule
Festival of Lights is open nightly, Friday, November 16th, 2018 through Tuesday, January 1st, 2019 from 6:00PM to 11:00PM, with the exception of Monday, December 31, when the show will close at 10:00PM. The Gift Shop will close at 11:00PM Sundays-Thursdays and at 12:00AM on Fridays and Saturdays, with the exception of Monday, December 31st when it will close at 10:00PM.
Thursdays-Sundays are very popular nights at Festival of Lights! During these nights, long lines and wait times should be expected. Weekends are especially busy and 4-6 hour wait times should be expected. Also, please note that if visitors are not inside the gate by 11PM, they may not get into the show before it closes.
Rates
We accept cash or credit cards as payment for entrance to the Festival of Lights. (Visa, MasterCard, and Discover only).
Rates are the same throughout the week.
– Family: cars, vans and trucks: $15
– Commercial: vans, limos and mini-buses: $35
– Motorcoaches and buses: $100
Lisa Skumpija can help with your Pittsboro, Chatham County and greater Raleigh, NC real estate. Living in Pittsboro, North Carolina and working onsite at the Chapel Ridge, Pittsboro, Fred Couples golf course community makes Lisa your local Chatham County real estate expert. Whether you are buying or selling a home in Chatham County, NC, Lisa Skumpija is a leading real estate agent and can make it a smooth process!
Save money by coming on a Discount Night:
On the following nights ONLY, receive reduced pricing!
– Monday, November 19th
– Tuesday, November 20th
– Monday, November 26th
– Tuesday, November 27th
– Family: cars, vans and trucks: $5
– Commercial: vans, limos and mini-buses: $15
– Motorcoaches and buses: $65