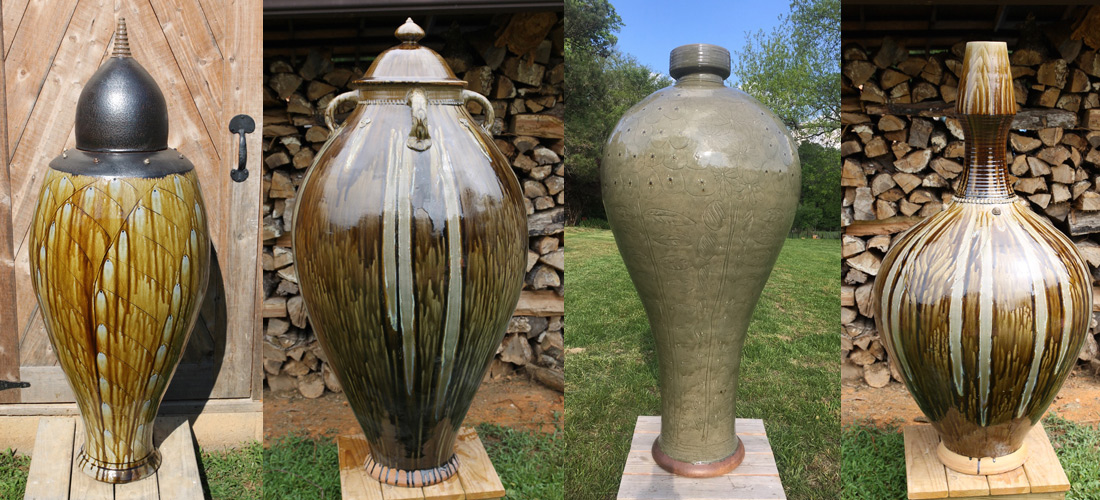 Mark Hewitt Summer Kiln Opening
It's that time again. Mark and his apprentices, Stillman Browning-Howe and Will Baskin are busy making pots for the summer firing. This will be Firing 101 of the impressive wood fired salt kiln. The kiln openings are essentially a sale mixed with a party. There are light refreshments, lively conversation between locals as well as with the potters and an opportunity to tour the workshop, kiln and lovely grounds. This is a free and open to the public event to showcase the 1500-2000 pots that will be for sale. There is a preview on Saturday morning from 8-8:50 AM.
Mark Hewitt is a legend in the world of pottery. His work can be found throughout the region and abroad. He is a local treasure that has brought national recognition to the Pittsboro area in the field of functional pottery. From his website you can learn that Mark's work has been featured in numerous publications including the Smithsonian magazine, the cover of American Craft magazine, and he has written extensively in the ceramic press. Mark has exhibited in London, New York and Tokyo, as well as throughout the US. He is well-represented in museum and private collections.
For more information check out Hewitt Pottery,
Johnny Burke Road, Pittsboro,
The Schedule is:
Saturday, August 24th, 2019: 9 a.m. to 5 p.m. (with an 8 AM preview)
Sunday, August 25th, 2019: 12 p.m. to 5 p.m.
Saturday, August 31st, 2019: 9 a.m. to 5 p.m.
Sunday, September 1st, 2019: 12 p.m. to 5 p.m.
And, mark your calendar for the holiday kiln openings:
Saturday, December 7th, 2019: 9 a.m. to 5 p.m.
Sunday, December 8th, 2019: 12 p.m. to 5 p.m.
Saturday, December 14th, 2019: 9 a.m. to 5 p.m.
Sunday, December 15th, 2019: 12 p.m. to 5 p.m
*This will be part of the Chatham Studio Tour along with 48 other Chatham Artists. *

Cary is celebrating the annual Lazy Daze Arts and Crafts Festival!
When: Saturday, August 24th, and Sunday, August 25th, 2019 – 9 AM – 6 PM
Where: Cary Town Hall Campus, Downtown Cary
This annual event is a fantastic way to spend a hot, lazy, summer day in the South! Lazy Daze is a live music and art extravaganza that brings together cultural groups and provides activities for kids such as; games, take home art, and even a Kids' World Music Stage.
The two-day event will feature over 300 artists including featured artist JJ Jiang, Jerry Miller Award winners, other live music and a variety of food and drink vendors.
Lazy Daze Entertainment Schedule
Main Stage
Saturday
8:45 a.m.: Opening Ceremony featuring the Cary High Marching Band
9:45 a.m.: Cary Town Band
11 a.m.: Oak City Sound
12:30 p.m.: LaureNicole
2:30 p.m.: The Marc Puricelli Ensemble
4:30 p.m.: Mo' Jazz
Sunday
12:30 p.m.: Opening Remarks
1 p.m.: The Mint Julep Jazz Band
3 p.m.: Doug Prescott Band
The Reserve at Mills Farm Stage
Saturday
10 a.m.: Garland Mason
12 p.m.: Cody Daniel
2 p.m.: Steve, Chuck, & A Beat
4 p.m.: Crush
Sunday
12:45 p.m.: Jason Adamo
3 p.m.: Snapback
Lisa Skumpija can help with your Pittsboro, Chatham County and greater Raleigh, NC real estate. Living in Pittsboro, North Carolina and working onsite at the Chapel Ridge, Pittsboro, Fred Couples golf course community makes Lisa your local Chatham County real estate expert. Whether you are buying or selling a home in Chatham County, NC, Lisa Skumpija is a leading real estate agent and can make it a smooth process!