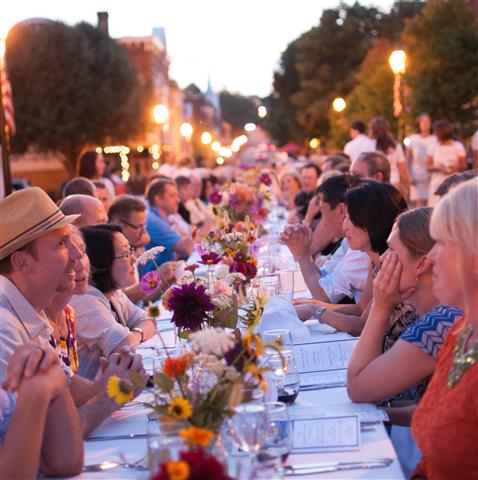 Local on Main: PBO's Farm & Art Dinner
May 19th 2019
If you are into local food, invested in the town of Pittsboro or just in need of a cool event on hot Sunday night- then make sure you have a ticket for this event!
Sponsored by Main Street Pittsboro as a celebration of Pittsboro's creative culture. This event brings together culinary artistry, visual and performing artistry, and appreciation for small family farms. Local on Main: PBO's Farm & Art Dinner" aims to join friends and neighbors at a table in the center of Hillsboro Street to discover, acknowledge, and honor the skills of local chefs, farmers, and artists in this fundraiser to help us continue our mission of revitalizing historic downtown district. Hillsboro Street will be closed starting at about 2pm until after the event.
Honestly what more could you want in an event. Imagine, a long beautiful farm house style table with local food featured front and center. This pretty much sums up Pittsboro. Local farms, entrepenuers and go getters working together to hold onto tradition while embracing the future. Show your support and get to take part in this magical evening.
Lisa Skumpija can help with your Pittsboro, Chatham County and greater Raleigh, NC real estate. Living in Pittsboro, North Carolina and working onsite at the Chapel Ridge, Pittsboro, Fred Couples golf course community makes Lisa your local Chatham County real estate expert. Whether you are buying or selling a home in Chatham County, NC, Lisa Skumpija is a leading real estate agent and can make it a smooth process!