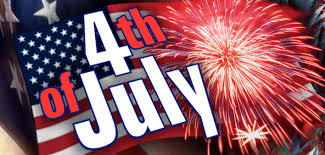 The end of June brings heat and fireworks to the region with these awesome events. From the celebratory 4thof July celebrations to festivals focusing on the holiday weekend, there are a cornucopia of opportunities for fun. Depending on the area and your level of holiday excitement there are events from Wednesday to the weekend.
Raleigh Events
Raleigh 4th of July Fireworks Display, July 4, 2018
You can't miss Raleigh's Fourth of July fireworks extravaganza! Returning to West Raleigh after six years, the annual July Fourth fireworks will be held around the Stadium and Arena Complex and admission is free. Perfect for family and friends, this breathtaking show is a must on Independence Day. Location: West Raleigh/N.C. State Univ/PNC Arena, 1400 Edwards Mill Rd., Raleigh, NC 27607,Times: 6-9pm
World Beer Festival Raleigh, July 7, 2018
World Beer Festival Raleigh is all about BIG! Big venue, big crowds and big tastes. Held at the North Carolina State Fairgrounds, this festival gives you a chance to sample more than 250 craft and specialty beers from around the world. Indulge in the VIP admission, which includes tastings plus a private VIP lounge with a bonus selection of rare and unique beers. Location: West Raleigh/N.C. State Univ/PNC Arena,1025 Blue Ridge Rd., Raleigh, NC 27607,Times: Afternoon Session: noon-4pm; Evening Session: 6-10pm,Admission:$35, general admission
Independence Day Celebration at the State Capitol, July 4th2018
This great Raleigh tradition includes a naturalization ceremony for new citizens, the reading of the Declaration of Independence and patriotic music by Raleigh Concert Band. It also features carriage rides, a couple of food trucks, and lots of free family-friendly activities, like quill writing, "Pie the Redcoat," and a chance to dress up as a Revolutionary era citizen. Time:11 a.m. to 4 p.m.
Location: NC State Capitol, 1 E. Edenton Street, Raleigh, Admission:Free
Brier Creek Independence Day Celebration,July 4th2018
Games, bounce houses, prizes, and face painting. Ends with a fireworkdisplay at dusk.
Location:Brier Creek Commons, 8311 Brier Creek Parkway, Time:7pm, Admission:Free
Joel Lane House Celebration,July 4th, 2018
The historic Joel Lane Museum House offers free admission on July 4th. Take a tour of the house and enjoy historical activities.Time:11 a.m. to 4 p.m., Location:Joel Lane Museum House, Admission: Free
Independence Day Block Party at Neuse River Brewing Co.. Sunday, July 1st
Come out and celebrate at the 3rd annual Independence Day Block Party. The street between Neuse River Brewing and NIckelpoint Brewing will be shut down, providing safe passage between both breweries and plenty of fun along the way. There will be local vendors, live bands, food trucks, and events such as hatchet throwing, a hula hoop contest, and a popsicle eating contest. This year the event will benefit Cause for Paws. Time:12 p.m. to 8 p.m., Location:518 Pershing Road, Raleigh, Admission:Free
Apex Events
Olde Fashioned Fourth of July,  July 4th, 2018
Decorate your non-motorized ride and join the patriotic Historic Downtown Apex celebration in Uncle Sam's Parade of Wheels down Salem Street. The Parade starts at the corner of Salem & Chatham Streets at noon, so be sure to line up early to save your place. Festivities will end with the Apex Fire Department's Splash Down! Please note: Flag-raising, inflatables, face-painting, karaoke, and more fun on site. Time:9 a.m. to 1 p.m., Location:Historic Downtown Apex, Admission: general admission free
Carrboro/Chapel Hill
Carrboro Fourth of July Celebration,July 4th, 2018
Gather at Weaver Street Market at 9:30 for the line-up of the annual parade. At 10:50 a.m. the parade leaves from Weaver Street Market to the Town Hall. The Kids Fun Zone and Fun Zone Stage will be back and better than ever! Enjoy plenty of activities, games, good food, and live music.Time:9:30 a.m., Location:Carrboro Town Hall, Admission:Free
Chapel Hill Fourth of July Celebration, July 4th, 2018
Music performed by the Radio Jacks and Matt Stratford Band, watermelon eating contests,and fireworks at the end of the night (9:30pm). Face Painting, Spin Art, Photobooth and more. Location:Kenan Memorial Stadium, 104 Stadium Dr, Chapel Hill, Time:7 p.m., Admission:Free with donations suggested
Cary
Cary Independence Eve Celebration, July 3rd, 2018
The Cary Town Band, Applause! Cary Youth Theatre will be performing. This year the band presents its 30th annual pre-4th of July patriotic celebration saluting our military service personnel past and present who have helped secure our freedom and liberty. This year's celebration will focus on the Declaration of Independence. There'll be tunes from the times and other music recalling the document itself and the spirit of liberty it engendered.will be musically saluting the American flag, its history, and the musical works it has inspired.Time:6:30 p.m.Location:Cary Arts Center, 101 Dry Avenue, Cary NC, Admission: Free
Cary Independence Day Celebration, July 4th, 2018
Time:7:00 a.m. – 6 p.m., Location:Fred G. Metro Bond Park, Boathouse, Fred G. Metro Bond Park, 801 High House Rd, Admission:Free
Fishing Tournament (Waterfront)
8-10 a.m.
Registration begins at 7:30 a.m. at the Boathouse. Prizes awarded for the longest and shortest fish in a variety of age groups. The Boathouse will be open from 7 a.m. to 6 p.m.
Parade Preparations (Kiwanis Shelter)
9:30-10:30 a.m.
Decorate yourself your family or your bike, trike, stroller, wagon, scooter or battery-powered kids vehicle, (no gas-powered vehicles please) and participate in an old time, kid-friendly parade through the park to celebrate the founding of our country. The parade theme will be "American Pride" You are welcome to provide your own decorating supplies, come already decorated, or use our decorations while supplies last. Supplies and assistance provided by the Cary Teen Council.
Parade In The Park
10:30 a.m.
Show your American pride! Slowly walk, stroll, ride, drive, and parade through the park. The parade begins at the Kiwanis Shelter and will be led by the marching unit of our own Cary Town Band playing a selection of classic american standards.
Family Contests (Boathouse & Spillway)
11 a.m.
Join us for some family-friendly competitions including: Donut Eating, Watermelon Eating, Lake Side Olympics, Seed Spitting, Sidewalk Decorating, and more! Age groups for all events are: age 5 & under, age 6-10, age 11-17, and age 18 & up. Please join us for this nostalgic celebration of our independence!
July Fourth at Booth Amphitheatre, July 4th, 2018
Enjoy contests, magicians, scavenger hunts, and rides. The North Carolina Symphony will be performing. There will be a fireworks display at the end of the event.
Time:3 p.m., Location:Koka Booth Amphitheatre, 8003 Regency Pkwy, Cary, NC 27518, Admission:Free but there will be a charge for some of the amusements.
Durham
 Children's Independence Day Celebration, July 4th, 2018
Bring the kids and celebrate the birth of our nation in this fun and patriotic parade. Come early to help your kids decorate their bikes, big wheels, tricycles, wagons, even strollers. Parade starts at 10:30 am.
Time: 9:30 a.m., Location:Durham Central Park, 501 Foster Street, Durham,
Admission: Free
Durham Fourth of July Celebration, July 4th, 2018
Patriotic fireworks show immediately following the USA vs. Japan baseball game.
Free, but you should consider buying tickets to the baseball game to make sure you get in. Location: Durham Bulls Athletic Park, 409 Blackwell St, Durham, NC 27701
39th Annual Festival for the Eno– July 4 & 7, 2018
Be cool and stay cool on banks of the river this Independence Day weekend at the Festival for the Eno with over 70 bands on 5 stages featuring the best contemporary and traditional entertainment from established and emerging artists. Craft beers and cider at the North Coast Brewing Company beer garden. Local food trucks and vendors. Over 60 craft artists and fun and engaging hands on activities for the entire family.All to raise awareness for our natural resources such as healthy forests and natural areas. Time:10am – 6pm, Location: Eno City Park in Durham, NC. 750 Stadium Drive Durham, NC 27701, Admission:$35.00 at the gate, $30 in advance
Raging Bull Food Truck Rodeo, July 4th, 2018
First annual Food Truck Rodeo highlighting the mobile flavors of Durham. Over 10 trucks in one location, live music by Will McBride Band and with games and giveaways throughout the day.  FOOD TRUCKS: Baconessence, Charlie's Kabob, Grill on Wheels, La Farm Bakery, MoonRunners Food Truck, Not Just Icing, Inc., Havana Dave's, Let's Eat HomeStyle, The Corner Venezuelan Food and more!Time:11AM- 4pm, Location:Raging Bull Harley-Davidson- 300 Muldee Street Durham, NC 27703
Pittsboro
Summer Fest 2018,  July 1rst, 2018
A special first Sunday vendorpalooza with live music, food, games and activities, chicken bingo, watermelon seed spitting contest, pie throwing contest, dunking booth and the coveted: Peach Pie Perfection Baking Contest! Also participate in the Independence Day themed bicycle ride! And a laser show after dark! Time: 4:00 pm – 9:00 pm, Location:Downtown Pittsboro, NC
Lisa Skumpija can help with your Pittsboro, Chatham County and greater Raleigh, NC real estate. Living in Pittsboro, North Carolina and working onsite at the Chapel Ridge, Pittsboro, Fred Couples golf course community makes Lisa your local Chatham County real estate expert. Whether you are buying or selling a home in Chatham County, NC, Lisa Skumpija is a leading real estate agent and can make it a smooth process!