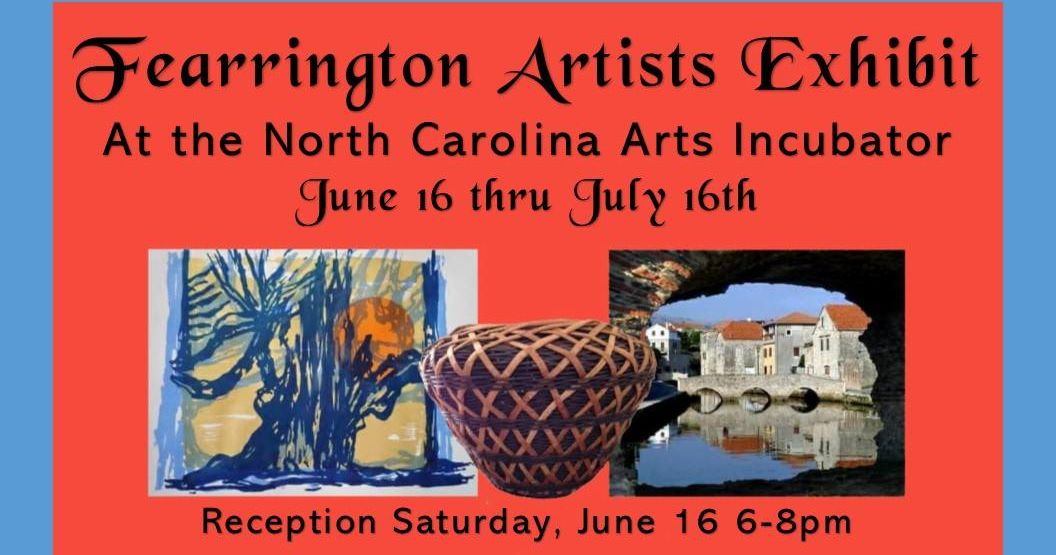 The Chatham Arts Council, through the NC Arts Incubator is hosting the Fearrington Artists Exhibit. The exhibit will run through mid- July at the PAF Gallery.
To kick off this event join the NC Arts Incubator in Siler City Saturday Jun 16thfor the Opening Reception of the Fearrington Artists Exhibit. There will be artists, refreshments, live music and ART!
Sat, Jun 16, 6:00 PM – 8:00 PM
NC Arts Incubator: 223 North Chatham Avenue, Siler City, North Carolina 27344
The NC Arts Incubator in Siler City will be hosting the Fearrington Village Artists exhibit for the next month. June 16th– July 16th. The work of ten Fearrington Artists will be on exhibit from June 16th thru July 16th at the NC Arts Incubator at 233 North Chatham Avenue, Siler City, NC 27344
Join in the celebration of a wide variety of mediums from the Fearrington Artists, including sculpture, screen printing, photography and more!
Artists:
Jan Harrison
Leslie Palmer
Roy Lindholm
Mathew Leavitt
James Aiken
Julie Uhler
Eric Saunders
Ruta schuller
Barbara Hengstenberg
Vidabeth Bensen
Live music from Dylan Branson and refreshments served!
This event is hosted by the Artist Studios at Fearrington Village
https://www.facebook.com/Artist-Studios-at-Fearrington-Village-144718688938617/
Learn more abou the Chatham Arts Council here- (https://www.chathamartscouncil.org/artist/nc-arts-incubator-2/)
This event coincides with the popular Saturdays in Siler so come where you can enjoy the Traditional Japanese Drum Group Earth Spirit Taiko. Drumming workshop begins at 6 with performance to follow. Audience members are welcome to participate!
Bear Creek Brewery, Mr. B's Chicken, and Courtyard Coffee will be there to provide you with refreshment and all downtown shops and galleries will be open! Twin Birch and Teasel will be doing a demonstration of "Swatch" a Japanese style of weaving. Come on Out!!!
Lisa Skumpija can help with your Pittsboro, Chatham County and greater Raleigh, NC real estate. Living in Pittsboro, North Carolina and working onsite at the Chapel Ridge, Pittsboro, Fred Couples golf course community makes Lisa your local Chatham County real estate expert. Whether you are buying or selling a home in Chatham County, NC, Lisa Skumpija is a leading real estate agent and can make it a smooth process!