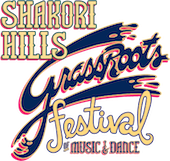 Shakori Hills Grassroots Festival Spring 2018 * May 3-6th, 2018 
Shakori Hills, 1439 Henderson Tanyard Rd Pittsboro, NC
Presented by The Shakori HIlls Community Arts Center, the Shakori HIlls GrassRoots Festival features four days of music on four different stages. Guests can witness performances by more than sixty different bands; attend dance, music and yoga workshops; browse the work of the many craft vendors and sample from the food and beverage vendors. Aside from providing great music to festivalgoers, the event aims to raise awareness about the importance of art education by working with non-profits in the surrounding area and presenting educational material throughout the event. This years' headliners are Steve Earl and The Dukes, Rising Appalachia, Donna The Buffalo, Ibibio Sound Machine and many, many more. In addition, you will find craft vendors and opportunities to collaborate with artists through workshops including Indigenous crafts. Woven into the festival is the theme of social and peace justice as well as sustainability. This is a festival for all ages as well with a full Seeds and Sprout schedule featuring hands on art projects, performances, story-telling, face painting and parades. Paper hand puppet intervention will also be on hand for the whole family to enjoy!
https://shakorihillsgrassroots.org
Lisa Skumpija can help with your Pittsboro, Chatham County and greater Raleigh, NC real estate. Living in Pittsboro, North Carolina and working onsite at the Chapel Ridge, Pittsboro, Fred Couples golf course community makes Lisa your local Chatham County real estate expert. Whether you are buying or selling a home in Chatham County, NC, Lisa Skumpija is a leading real estate agent and can make it a smooth process!