Celebrate Fair Game Beverage Company's 2nd Birthday and try their first Aged Rum at their tiki party! This event isn't just for the 21 and up crowd, it will be a fun family friendly event.

Fair Game Beverage Co.
No one can describe a company as good as the company itself, so here it is!
"We are a craft distillery rooted in our Southern home and inspired by the world's classic spirits. Our rums and brandies are slowly fermented and carefully distilled on an Alembic copper still before they are aged in bourbon oak barrels. With all of our products, our goal is to bring you true Southern Craft Spirits, at home in cocktails, on their own, or over ice. We avoid shortcuts in favor of an honest, slow approach to produce spirits of the highest quality made with unique ingredients and processes, and always uniquely delicious.
What began with a love for classic Ports and Sherries, has turned into a whole new expression of Southern Wine. Our brandy infused wines are made with fruit and grapes from the Carolinas. We work with Haw River Valley grapes to create our award winning Ferris Red and Two Step White wines, in the Ruby Port and Amontillado Sherry style. Our Tipper Wines are fruit based, and infused with Brandy, intended to be versatile, not so sweet, and pair great with food and desserts. We've found they also work great in a variety of spritzers and cocktails. At Fair Game Beverage Co. we are crafting wines proud to call North Carolina home."
I can tell you first hand, their beverages are delicious!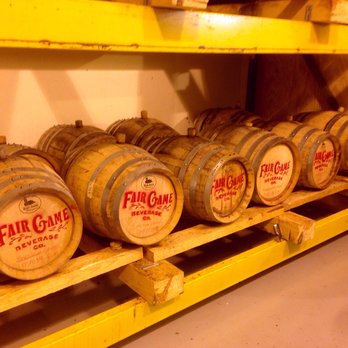 Rum Release & 2nd Birthday Tiki Party!
Date: Saturday, June 11, 2016
Time: 2pm-6pm
Location: 220 Lorax Lane, Pittsboro, NC 27312
Head over to Fair Game Beverage Co. have some great family and community fun at the release of Fair Game's first Aged Rum and 2nd Birthday! There will be music, tasty cocktails, music by DJ Khaleeb and Selector B Steady, distillery tours, food, and kid's activities. The bar proceeds will go to benefit Farmer Foodshare which is an organization here in North Carolina with a focus on farm sustainability and hunger relief. Bring a blanket or lawn chair if you would like to sit in the grass and hang out.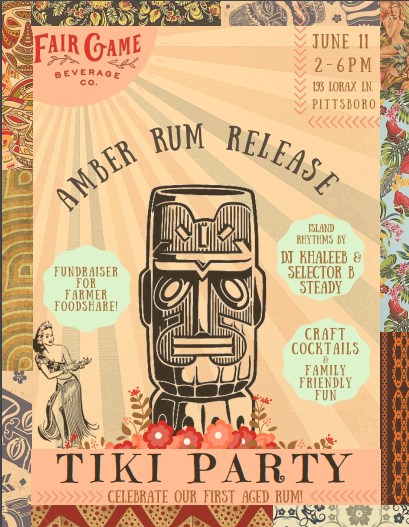 Lisa Skumpija can help with your Pittsboro, Chatham County and greater Raleigh, NC real estate. Whether you are buying or selling a home in Chatham County, NC, Lisa Skumpija is a leading real estate agent and can make it a smooth process!