Mother's Day is May 8th, which is right around the corner.  Tired of falling back on flowers, a card, chocolate or jewelry?  Do something unique and different with the woman who brought you into the world!
Wine & Design Chapel Hill
Wine & Design is a location where you can "unleash your inner artist." Attend a class where all the materials are provided and an instructor guides you through creating the selected image for that class.  You may bring your own beer and wine but Wine & Design does not provide alcohol.  You are always welcome to bring your own snacks, on special occasions they will have a treat but it is not with every class.  They have classes open to the public or you can schedule a private event for adults or for kids.  Their website has information on the services they provide and have a schedule of classes with examples of the images that will be created in that class and if a snack will be provided.
Peonies For Mother's Day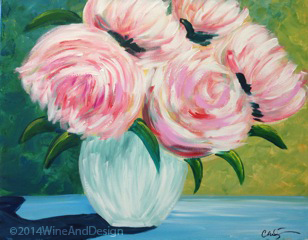 Date: Sunday, May 8, 2016
Time: 4pm to 6pm – arrive 15 minutes early to mingle, set up your station, pour your drinks and get your snacks ready!
Price: $35 per person
Instructor: Krystal Watters
Location: The Glen Lennox Shopping Center – 1201-D Raleigh Road, Highway 54, Chapel Hill
Wine & Design will have lemonade and cake at this class in honor of Mother's Day! They will also supply small plastic cups for your beverages and corkscrews.
If you have any questions, call 919-455-0749.
Make A Night Out Of It!
Chapel Hill is home to some amazing restaurants! With the class ending at 6, it is perfect for heading straight to one of the many yummy restaurants in town.  Here is a great resource for finding a place to eat, narrow down your search by restaurant type and then check out the extensive list of restaurants with their website and phone number provided.
Lisa Skumpija can help with your Pittsboro, Chatham County and greater Raleigh, NC real estate. Whether you are buying or selling a home in Chatham County, NC, Lisa Skumpija is a leading real estate agent and can make it a smooth process!