Last week I wrote about the Chatham Mills Farmers' Market and mentioned a little about North Carolina's agricultural history.  During this time of year, our state is plentiful with farmers' markets and produce stands right on the side of the road.  There is nothing quite like having fresh food and not to mention, supporting North Carolina farmers.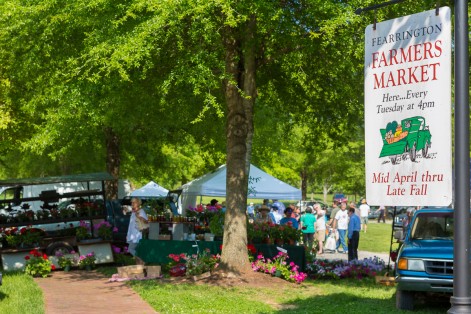 Fearrington Farmers' Market
The Fearrington Farmers' Market is a "producer-only" market that started in 1991 that connects local producers directly with community members. It encourages sustainable farming practices, fair prices for high quality products and supporting the local economy.
The market takes place every Tuesday from 4pm to around 6pm. Try to bring small bills, $20 or lower and if you have your own reusable bags, this is a great opportunity to continue thinking about the environment and use them! The market is located at E Camden, Fearrington Village, NC 27312.

Farmers' Market Vendors
The Fearrington Farmers' Market has a membership of over 40 vendors – some who participate all season while others only part of the season. If you would like to know what vendors will be at the market each week, sign up for their weekly email newsletter. To do so, email Diane Prosser at fearringtonfarmersmarket@gmail.com and ask to be added to the email list!
Here are some current market members:
Angelina's Kitchen
Basil, Matoes & More
Bear Creek Berries
Bonlee Grown Farm
Cane Creek Farms
Capp's Apizza
Copeland Springs Farm
CrossIn Back Vineyard and Farm
Deep River Farm and Greenhouses
Eco Farm
The Farm at Penny Lane
Four Oaks Farm
Gainey's Farm
Gary Thomas Farms
Gramma D's Cookies
The Grange
Great Harvest Bakery
Harrington Farms
Heaven Hill Farm and Apiary
Kalawi Farms
Katherine's Garden
Lathers, Lotions & Potions
Lu's Farm
Natural Choice LLC
Olde Carthage Farm
Ole Time Bake Goods
Paradox Farm Creamery
Peaceful River Farm
Perry-winkle Farm
Poverty Hollow Farm
Red Roots Farm
S&K Farms
Screech Owl Greenhouses
Sunny Sloe Greenhouses
The Sweet Farm
Valley View Farm
Wanderlust Farm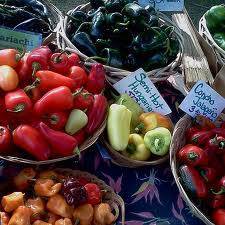 Farmer Foodshare Program
While looking into the information on the farmers's market, I learned about a program that I had never heard of but that sounds like an amazing program. Farmer Foodshare was created by farmers and shoppers from the Carrboro Farmers' Market in 2009. It delivers fresh produce and baked goods to people in need in our community – at no cost to the people. There are many ways to get involved from donating money and food to volunteering time or becoming a partner with the organization. Interested in learning more about this awesome program? Check out their website.
Lisa Skumpija can help with your Pittsboro, Chatham County and greater Raleigh, NC real estate. Whether you are buying or selling a home in Chatham County, NC, Lisa Skumpija is a leading real estate agent and can make it a smooth process!