Most of us don't relish the thought of entering a nursing home or senior community, and most of us don't want to spend our hard-earned retirement money on home modifications to make our houses more suitable to our needs.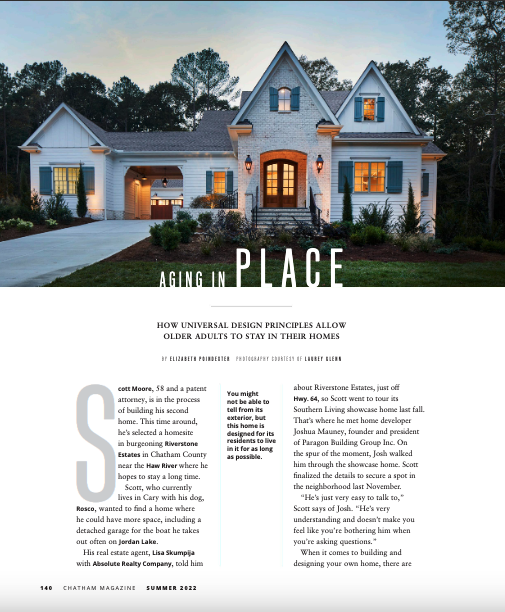 Enter the concept of "universal design," a new trend in home-building that emphasizes adaptability and permanence. The concept is gaining traction even among those who aren't particularly close to retirement age. In a new issue of Chatham Magazine, homeowner Scott Moore explains that "aging in place is not an immediate concern of mine, but I do like that idea."
In an era in which the future seems uncertain, it feels good to have a place to call your own, a home that will serve you at every stage in your life.
Home Design for All
A concept developed at North Carolina State University's College of Design, Universal Design is defined as, "The design of products and environments to be usable by all people, to the greatest extent possible, without the need for adaptation or specialized design." In terms of living environments, this means 4' hallways, 3' doorways into rooms, and incorporating walk-in, curbless showers that are barrier-free. It can also mean having safety failsafe features that minimize potential hazards. For example, using lighter-weight materials for doors to reduce the amount of force necessary to open them. Raised dishwashers and receptacle heights that are "back-friendly."
Many of today's families are finding they need a multi-generational home. Universal Design is a must for just such occasions. UD concepts make extending family living so much easier on everyone, at any age, to navigate home safely.
The point being is homes that use universal design are equally useful and comfortable for you at all stages of your life. Aging in a community is right for some people, but most of us would rather age in place, in our homes that we know and cherish. Universal design makes that possible.
Sadler Construction
Absolute Realty lists with Sadler Construction, the Triangle's only builder focused solely on Universal Design homes. Their homes marry livability concerns with aesthetics, ensuring that you never have to sacrifice the beauty of your house in the interest of aging. No matter the stage of life you're in, your home will look amazing and be easy to navigate. No more compromising, and no need for expensive remodeling down the road.
Find Your Dream Home
One of the fastest-growing communities dedicated to Universal Design is Riverstone Estates in Chatham County. Sadler Construction is creating gorgeous homes that are barrier-free and that adapt to you and your family as you enter into new stages of ability.
If you are ready to find a home that will age gracefully with you, look no further than Riverstone Estates. Contact realtor Lisa Skumpija today to find your dream house.