Your needs change over the course of your life, and your home typically changes with them. Most American homeowners own three homes over the course of their lives. But if you're tired of moving – or you just want a home that grows with you – a home built with universal design principles is a great choice.
Universal design is the idea that a home should accommodate accessibility needs as its occupants age: wider doorways, fewer or no staircases, zero entry showers, and other features.
If you're looking for a home that is both luxurious and designed for every stage of your life, these new homes from Sadler Construction should be at the top of your list! Sadler Construction is the Triangle's only "CAPS" certified home builder that is focused exclusively on designing barrier-free, ease of use homes.
Located on the beautiful Chapel Ridge golf course, both are built around accessibility without compromising the high quality and elegant details custom homebuyers want. They include:
4' wide hallways and 3' doorways, allowing easy movement and wheelchair access.
No steps from garage for ease of entry.
Zero entry showers to reduce the risk of falling.
Barrier-free design for easy mobility.
Elevator framing for easy upgrading if you ever need it.
Designing for accessibility doesn't mean compromising on quality! These homes come with a Bosch appliance package (including refrigerator), tankless water heaters, Marvin windows, and other modern amenities.
With a handsome brick exterior, first and second floor decks and over 3,000 square feet of interior space, this new construction is as flexible as you need it to be. The master suite is on the first level, with a full walk-in closet and easy access to the two-car garage. Upstairs, a 22×14' bonus room is perfect to turn into a theater, playroom for the grandkids, and more! The site also offers great views of the water and the 18th hole.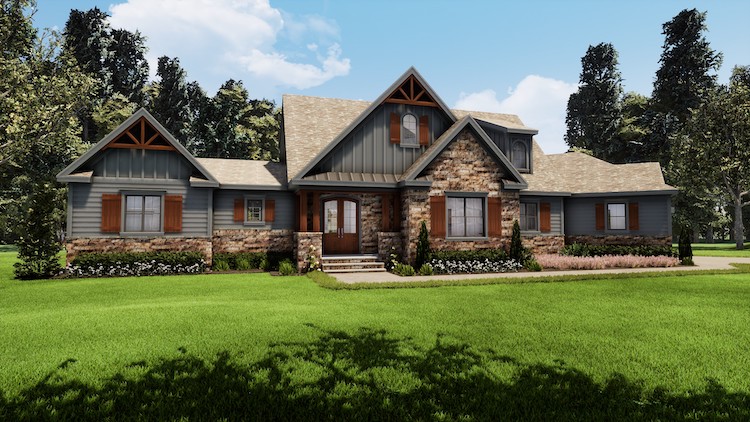 This home's gorgeous mixed-material façade is both modern and classic, with exposed wooden beams set against warm stone. Inside you'll find an open floor plan with a large family room and kitchen, along with an oversized, screened-in back porch that's perfect for relaxing and entertaining. An additional bonus room and deck upstairs give you even more options.
This home is still early enough in the construction process that custom selections are available, so don't wait! Contact Lisa Skumpija today to learn more about the listings or begin the homebuying process!