The past two weekends have been rough. It looks, sounds and even smells like spring but the weather….yeah it is pretty spring like too, actually. So let's look forward to upcoming events that are NOT, I repeat, NOT rained out!
A big Chatham County celebration is upon us with the 100thFiring Party at renowned potter, Mark Hewitt's kiln. The 100thfiring of his one of a kind kiln built in 1983 took place this past month. In celebration the Hewitt's are hosting a one of a kind party featuring local music, local food, pottery, games and more!
If you have not heard of Mark Hewitt, then pay attention. He is not only a local legend but a national treasure in the field of distinctive functional pots. Pottery runs in his family with the lineage supporting decades of fine China production in his native England. Branching off the family tree, Mark chose to focus on the rustic using NC clay in his pots and planters he fires in his specialized wood fired kiln.
For more info go to Hewitt Pottery's website
Friday, April 19th
Live Music! The weekend kicks off with Even Trade, Carol's brother Dan, and his son Luca, headlining at the City Tap in downtown Pittsboro from 8:30-11pm!
Saturday, April 20th
8 – 8:45am Preview ~ a chance to view the pots in the barn, no sales or reservations at this time. (Everyone gets a number and gets back in line at 8:40 in that same order. We will give out numbers as you come down the driveway. It's easy. We do it every time.)
9am – 5pm Kiln Opening Sale ~ all pots are stamped with '100' and the makers mark.
9am – 1pm Mr A's Beignets Food Truck ~ fresh beignets, little pillows of deep fried dough that get rave reviews!
Arlton Cangelosip (Mr. Al) making his authentic, delicious beignets.
11am – 2pm Dumplings! ~ Kim Hunter, of Kimbap fame, now Umma Foods, will be serving her Korean dumplings (veggie.)
Kim Hunter teaching a class on how to make delicious dumplings!
12 – 3 pm Locopops! ~ (or until we run out) yummy locally crafted popsicles
Children love Locopops, and we love children!
Please bring them along. We have swings!
12 – 2pm Tommy Edwards & LaNelle Davis ~ ever popular LaNelle Davis, late of the band Big Medicine, and The Bluegrass Experience's award-winning Tommy Edwards will play original songs along with some folk, country and bluegrass favorites.
12-4pm Southern BBQpork sliders ~ Bread Shop buns filled with locally raised, whole hog, wood-fired barbecue and homemade coleslaw from Picnic in Durham.
1pm – Happy 100th Firing Birthday Cake Cutting made by The Country Bakeress!
2 – 3pm Kiln-side Chat
Lively conversation among renown pottery scholars ~ Christopher Benfey (Mellon Professor of English at Mount Holyoke College), Henry Glassie (Professor Emeritus of Folklore, University of Indiana), Louise Cort (Curator Emerita for Ceramics at the Freer Gallery of Art and Arthur M. Sackler Gallery, Smithsonian Institution) and Terry Zug (Professor Emeritus of Folklore and English, UNC Chapel Hill.)
3 – 4:30pm Onyx Club Duo of Dave Smith & Gabe Pelli ~ original songs and some of the gypsy jazz that's made them famous!
3 – 5pm Local Cheese Boards from Angelina's Kitchen ~ featuring an array of local cheeses, Chicken Bridge bread, dried fruit and nuts and more….
3 – 5pm Under the Oak Farm Charcuterie Spread – Blake uses sustainably local raised beef and pork to create an exquisite array of charcuterie.
9am -5pm Larry's Coffee and Local Pastries ~ you can find Larry's Coffee, Joan's homemade muffins and cookies, and Phoenix Bakery brownies in the workshop all day!
Sunday, April 21
Noon – 5pm Kiln Opening Pottery Sale continues
12 – 3pm Yee Haw Donuts ~ fresh made cake style Sweet Potato Donuts
2 – 4pm Homeland Creamery ~ Make-your-own ice cream cone!
3 – 5pm Empanada Republic ~ delicious, traditional Argentinean Empanadas made by Fabian Lujan and Sandra Sarlinga.
If you can't make Easter weekend happen, check out the:
Second weekend of the Kiln Opening Sale
Saturday, April 28th ~ 9am-5pm
We will restock the shelves as best we can, and provide refreshments ~ hot coffee, lemonade, homemade muffins, cookies and brownies, cheese and crackers, and such. It won't be as dramatic as the first weekend, but we will still have fun, more time to talk, and maybe strawberries will be more plentiful and the roses over the doorway to the barn will have bloomed! (There is no Preview the second weekend.)
Sunday, April 29th ~ noon – 5pm
1 – 2pm Artist's Talk, in the pottery workshop
Mark will give a talk and slide presentation about his work, how & why he became a potter, and show images of some of his favorite pots from around the world.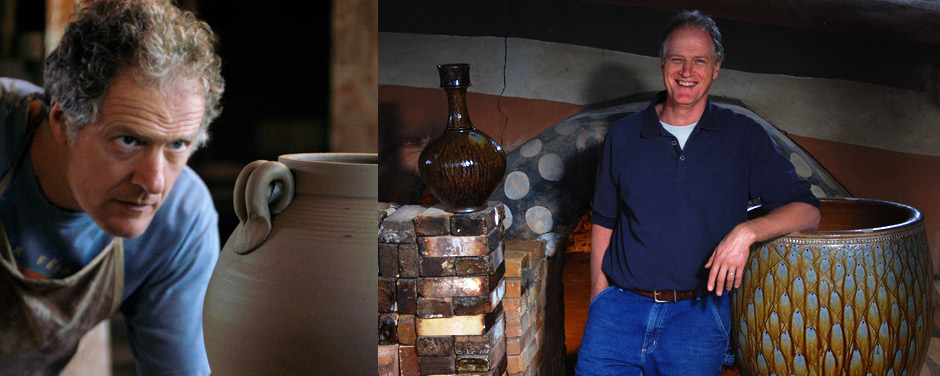 Lisa Skumpija can help with your Pittsboro, Chatham County and greater Raleigh, NC real estate. Living in Pittsboro, North Carolina and working onsite at the Chapel Ridge, Pittsboro, Fred Couples golf course community makes Lisa your local Chatham County real estate expert. Whether you are buying or selling a home in Chatham County, NC, Lisa Skumpija is a leading real estate agent and can make it a smooth process!