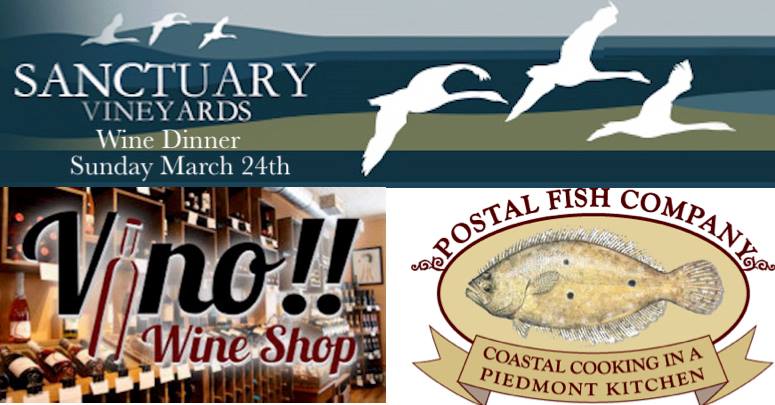 Saturday March 24th6PM – 9PM
We have posted before about the food and mission of The Postal Fish Company in Pittsboro. Delicious five-star cuisine focused on locally sourced ingredients including seafood from the NC coast! Now in true community centric fashion, Postal Fish Company has teamed up with Vino Wine Shop, another Pittsboro locality, AND Sanctuary Vineyards- a NC winery- to bring you a fabulous event. Sanctuary Vineyards aims to prove NC wines are just as decandent as their CA counterparts.
In case you haven't heard, The Wright family founded Sanctuary Vineyards in the Outer Banks and seven generations of Wrights have owned the property, which is a small, quaint, seaside farm with rows of corn alongside grape vines. The climate at the vineyards is perfect to grow grapes with warm, hot days tempered by cool breezes from the nearby Atlantic.
The current vineyard winemaker, George Butler will be on hand for this dinner to drop some knowledge on the local wine to local seafood pairings that will make this evening so special.

Menu is below. Price is $65 per person, which includes tax and gratuity. Hurry and buy your tickets now as only 50 seats are available.

Menu Option 1
Chilled NC Scallops
Pea Tendrils, Burnt Orange, Wood Roasted Onions & Toasted Granola
NV, Wild Pony White
Menu Option 2
Spanish Mackerel
Smoked Cabbage, Country Ham, Sweet Potato & Fennel Soubise
2017 Pearl, Albarino
Menu Option 3
Poached Marshallberg Sturgeon & Braised Ox Tail
Haw River Mushrooms, Late Winter Greens & Clam Butter
NV, Morton Table Red

Postal Fish Company, Vino Wine Shop and an NC vineyard; shake off the winter blues and get out of your pajamas and come out!
Tickets and More Info Here
Lisa Skumpija can help with your Pittsboro, Chatham County and greater Raleigh, NC real estate. Living in Pittsboro, North Carolina and working onsite at the Chapel Ridge, Pittsboro, Fred Couples golf course community makes Lisa your local Chatham County real estate expert. Whether you are buying or selling a home in Chatham County, NC, Lisa Skumpija is a leading real estate agent and can make it a smooth process!