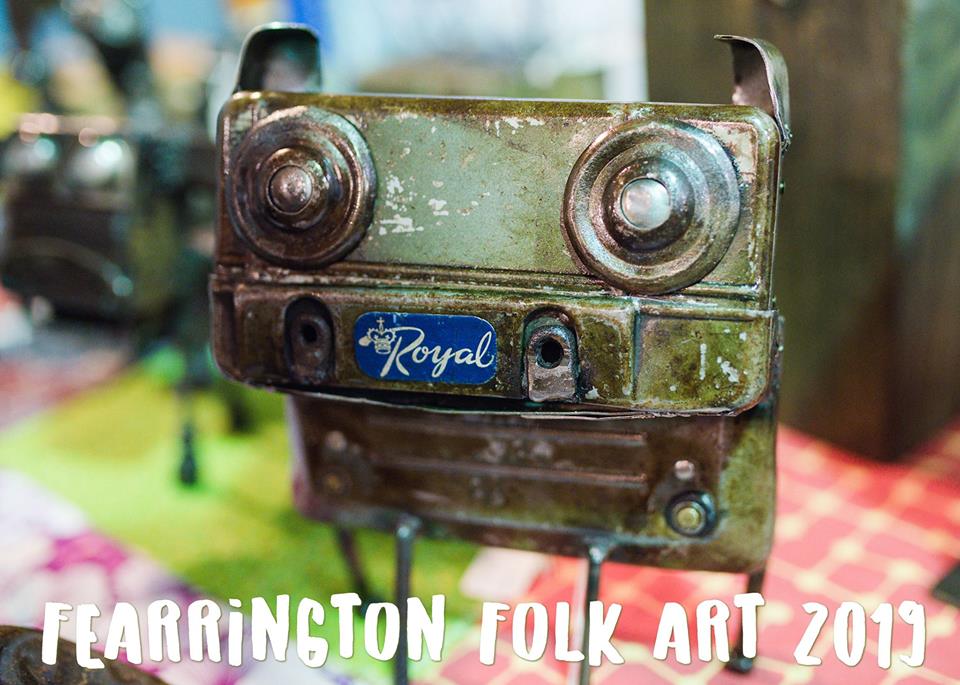 The annual Fearrington Village Folk Art Show kicks off today with the Collector's Preview. Come out from 7-9 PM on Friday February 22ndto meet the artists themselves as well as other art savvy locals. You also have the option to pick up some of these handmade treasures before the masses are introduced to them! Light hors d'oeurves and drinks will be served as well.
Tickets are $35.00 and include a weekend pass to the event!
As described by the organizers, the annual Folk-Art Show features the work of self-taught artists who are deeply influenced by the spirit of folk art, raw vision, naïve art, primitivism and outsider art. You'll see whimsical paintings, sculptures, pottery and all sorts of work to get your imagination flowing. Fearrington has garnered a reputation for bringing together an eclectic group of outsider artists who represent some of the most interesting work to be found in the folk art world. We hope you'll experience it for yourself!
All sales proceeds benefit the artists directly. Fearrington takes no commission from the artists, nor does Fearrington charge a booth fee to the artists selected for the show.
Time: 10:00 AM – 5:00 PM
Cost: $5
Website: https://www.fearrington.com/folk-art/
Chatham County has an amazing selection of local folk artists making this collective showing a great opportunity to see them in unison. If you can't make it this weekend, check out the folk show in Bynum sometime or The Small Museum of Folk Art in Pittsboro. The museum is a crafty display located by the Small Café. https://www.smallmuseumfolkart.org
2019 Artists
| | |
| --- | --- |
| Stephanie Astalos Jones | Cap Man |
| Chris Beck | Bailey Jack |
| Josh Cote'* | Mike Jones |
| Fleetwood Covington | Crystal King |
| Odd Creatcher* | Tim & Lisa Kluttz |
| Danny Doughty | Amy Lansburg |
| Jeanne Flint | CM & Grace Laster |
| James Floyd* | Eric Legge |
| Riley Foster | Peter Loose |
| Charlie Frye | Jennifer May |
| Susan Frye* | Mark May |
| Theresa Gloster | Brian Mergenthaler |
| Thomas Graham | Lee Neary* |
| Jackie Haliburton | Lara O'Keefe |
| Jeanie Holland* | Missionary Mary Proctor |
| Chris "Chub" Hubbard | Cher Shaffer |
| Michele Humphrey* | Hamidou Sissoko |
| Très Taylor | John Sperry |
| | Tom Steck |
Lisa Skumpija can help with your Pittsboro, Chatham County and greater Raleigh, NC real estate. Living in Pittsboro, North Carolina and working onsite at the Chapel Ridge, Pittsboro, Fred Couples golf course community makes Lisa your local Chatham County real estate expert. Whether you are buying or selling a home in Chatham County, NC, Lisa Skumpija is a leading real estate agent and can make it a smooth process!