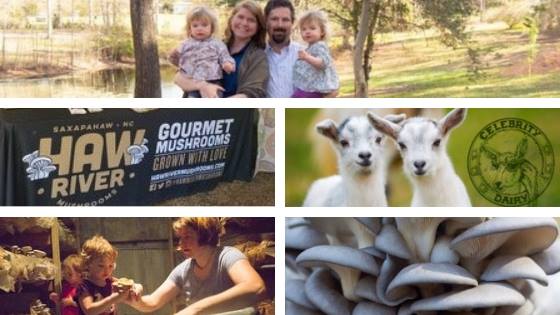 Haw River Mushroom Wellness Dinner at Celebrity Dairy,
Jan 20th  
Sun, January 20th, 2019
1:30 PM – 5 PM
144 Celebrity Dairy Way, Siler City, North Carolina 27344
Tickets are $65.28
For More Information Check out the FB Post
Join these two farms for the Third Annual Wellness Dinner, Sunday January 20 (from 1:30 pm to 5 pm) focuses on the health benefit of mushrooms with Special Guests, Ches & Laura Stewart from Haw River Mushrooms, LLC.
Haw River Mushrooms is an amazing local farm specializing in edible and medicinal mushrooms on their small farm in Saxapahaw, NC. They grow primarily indoors with varieties such as oyster mushrooms, lions mane, and shiitake and also often offer piopinni, reishi, king trumpet and others. They do have out outdoor varieties such as; for King Stropharia, chicken of the woods, and log grown lions mane, blue oyster, and shiitake Laura also holds a Wild Mushroom Food Safety Certification, allowing her to sell 19 varieties of seasonal foraged mushrooms.
The Third Annual Wellness Dinner Menu:
Chef's Choice Appetizers
Warm Chaga & Reishi Mushroom Tea
Hungarian Mushroom Soup
East Branch Ginger, Microgreen, & Citrus Salad
Mushroom Pastry
Peasant Duck Confit on Quinoa and Brown Rice Pilaf with Sauteed Mustard Greens & Mushrooms
Cheese and Fruit Platter
Gluten Free and Vegetarian Options Are Available (Upon Request)
Call 919-742-5176 for more information or email (theinn@celebritydairy.com).
AND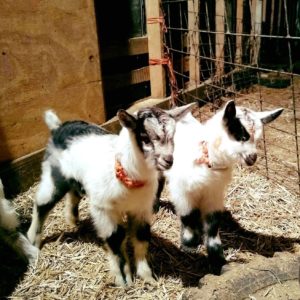 It's baby goat season again! Join Celebrity Dairy for lots of cuddles and adorable antics, baby goat yoga, and a chance to see a goat dairy in action. There might be new babies born during the Open Barn!
Join the farmers for a homemade lunch of soup and sandwiches at the Inn, including many vegetarian and gluten-free options. Finish off your meal with something sweet — including cookies, fudge, and goat milk gelato for sale!
Not enough entertainment for you? Browse handmade crafts from local vendors or take a walk around the pond!
Feb 9thand 10thand March 9thand 10th
Ticket information*
Admission:
Advance $10/car plus Eventbrite fee.
Day-of admission is cash-only at the Open Barns.
Lunch deal: $10, includes choice of soup or chili (vegetarian or meat based), bread, dessert, and a beverage.
Goat Yoga: Tickets sold separately, to be announced.
Goat Nature Walk: $5 – weather depending, 100% refund in case of rain or excessive cold.
*prices listed before taxes and fees
Questions? Call us at 919-742-5176 or email us at TheInn@CelebrityDairy.com!
A portion of proceeds go to support the good work of Heifer International. The rest of the proceeds support the goats!
Lisa Skumpija can help with your Pittsboro, Chatham County and greater Raleigh, NC real estate. Living in Pittsboro, North Carolina and working onsite at the Chapel Ridge, Pittsboro, Fred Couples golf course community makes Lisa your local Chatham County real estate expert. Whether you are buying or selling a home in Chatham County, NC, Lisa Skumpija is a leading real estate agent and can make it a smooth process!