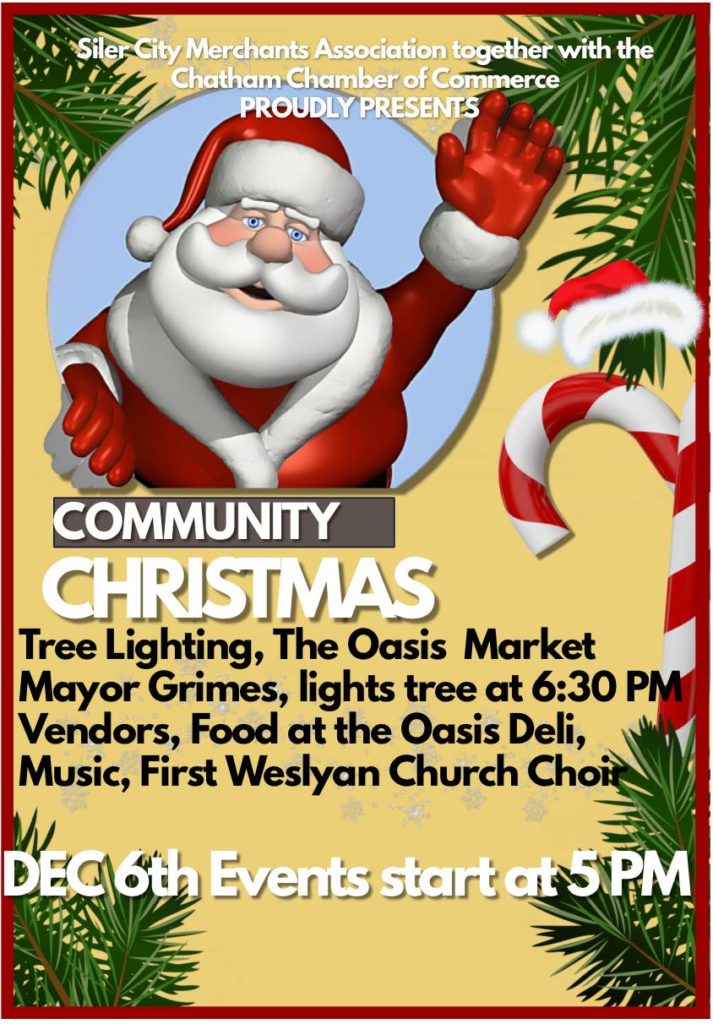 Siler City might not be your first thought for Holiday shopping, but you might be surprised to learn that the downtown holds numerous galleries as well as the NC Arts Incubator. In addition, new businesses are opening including The Artisan Hub Café which serves up Southern style farm to table eats as well as The Chatham Rabbit with its fresh Van Gogh coffee and The Oasis Fresh Market which aims to fulfill your pantry needs while providing an outdoor space for dining or hosting the local farmers' market and food trucks.
So don't forget about Siler City this holiday season! The kick-off is December 6th with the "Musical Notes & Christmas Floats" Holiday parade, from 6-7 PM in downtown. In the Courtyard on Chatham avenue you will find live music, food, vendors and SANTA!
The Siler City tree lighting will be in The Oasis Fresh Market parking lot at 6:30 PM.
A special Siler City original event is also taking place this holiday season, Downtown Siler City Holiday Sip & Shop! This event is hosted by The wild women chasing periwinkle gallery. As a new gallery on Main street, they are opening up their doors and those of other nearby retailers each Sunday afternoon in December (last date the 23rd). Your one-time $10 purchase includes an art-district wine glass and sip-stop passport good for all four weeks, available at all participating shops. Each sip-shop will feature a diverse sample of wine. variety changes weekly. Once you get your glass, bring it along with your sip-shop passport and Holiday shopping list for a bit of Holiday cheer.
Wine by the glass or bottle will be for sale at Oasis also. Holiday hand crafted gifts aplenty in our shops and studios. Nibbles, entertainment, and door prizes. Come explore and discover Siler City with 138 N. Chatham Ave. and retail neighbors.
Lisa Skumpija can help with your Pittsboro, Chatham County and greater Raleigh, NC real estate. Living in Pittsboro, North Carolina and working onsite at the Chapel Ridge, Pittsboro, Fred Couples golf course community makes Lisa your local Chatham County real estate expert. Whether you are buying or selling a home in Chatham County, NC, Lisa Skumpija is a leading real estate agent and can make it a smooth process!