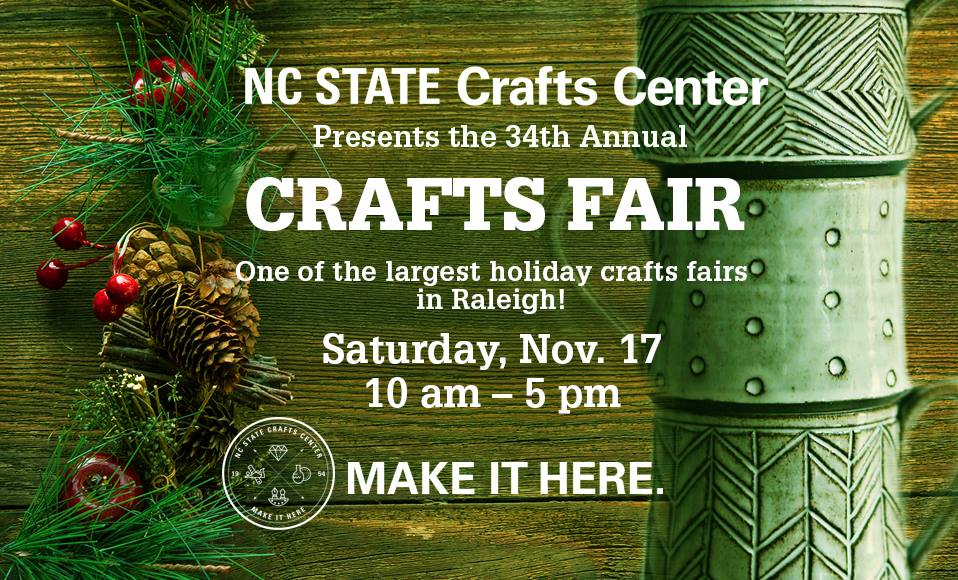 NC State Craft Center 34thAnnual Craft Fair * November 17th10 AM – 5 PM
Yet another great opportunity this weekend to get out in the sunshine and get some shopping underway before the kick-off to shopping season post-Thanksgiving. Forget Black Friday deals, here is a chance to support local and developing artists within the greater community while taking home one of kind crafts for friends and family. Don't miss out!
What Again: NC States' Annual Craft fair
When: November 17th
What Time: 10 AM to 5 PM
Where: NC State University Craft Center, 210 Jensen Dr. Raleigh NC 27607
Hosted By: NC State University Crafts Center
This Saturday only!!!!! Head to Raleigh for one of the biggest craft fairs of the holiday season. Over 60 local artists – handcrafted pottery, woodwork, jewelry, mixed media and more!
FREE parking. ONLY $3 admission and children under 10 and NC students: FREE.
There will also be food trucks onsite and general and holiday cheer abounds.
Did you know, that NC State Arts Department maintains the Crafts Center as one of their programs targeting NC students as well as the general community. You can use their crafting studio as a non-student as well as enroll in non-credit classes to benefit from mentorship and technical assistance with any craft venture. The crafts specialized in are woodworking, pottery, photography, fiber arts, lapidary, glass, jewelry, metals & more.
Here is a list of current classes offered:
Art on Paper – Acrylic Painting, Watercolor Painting
Clay – Potters Wheel & Handbuilding
Fiber Arts – Felting, Silk Dyeing, Weaving on Floor Loom
Glass – Fused Glass, Lampworking, Stained Glass
Jewelry – Metal Jewelry
Lapidary – Cabochons, Faceting
Photography – Black & White Darkroom, Digital
Woodworking – Carving, Furniture Construction, Machinery Instruction, Woodturning
Lisa Skumpija can help with your Pittsboro, Chatham County and greater Raleigh, NC real estate. Living in Pittsboro, North Carolina and working onsite at the Chapel Ridge, Pittsboro, Fred Couples golf course community makes Lisa your local Chatham County real estate expert. Whether you are buying or selling a home in Chatham County, NC, Lisa Skumpija is a leading real estate agent and can make it a smooth process!