Here is a sampling of what local holiday themed events you have to grace the social calendar with in November.
Starrlight Mead
November 10thStarrlight Mead Grand Opening Celebration!
Check out the new space with tours, tastings, live music, prizes and more.
Festivities start Saturday the 10that 12 PM – 6 PM and end November 11that 5:30 PM
Music Sat, 3:30-5:30, Pete Pawsey
Sun, 3-5, Dylan Branson
130 Lorax Lane, Pittsboro NC
https://www.starrlightmead.com
The Carolina Brewery
November 15th– Santa's Secret Tapping Party
$1 pints of Santa's secret all day at both locations. Support Toys for Tots and get 10% off your food when you bring unwrapped gift. Try out new Winter Menu!
Oyster weekend 11/17/18 in Pittsboro and 11/18/18 in Chapel Hill. Join in on the Pittsboro patio for oyster roast with a live bluegrass band from 2-5pm. Ticket includes a dozen oysters and two beer tokens. If you are already headed to Chapel Hill, you can take part in a special beer and oyster pairing with Shooting point Oysters. $25 a person at either location.
https://www.facebook.com/pg/carolinabrewerypb/events/?ref=page_internal
Pickin': A Music Celebration & Chatham Arts Council Benefit
This event is brought to you by Chatham Arts Council.
Sunday November 11thfrom 4 – 8 PM at the Chatham County Agriculture & Conference Center in Pittsboro.
Calling all bluegrass lovers to stomp their feet and revel in the fiddle at Pickin': A Music Celebration, Chatham Arts Council's Annual Benefit for Artists-in-Schools, featuring The Bluegrass Experience on their 47th anniversary! Guests will be treated to music played by Chatham County's own Tommy Edwards with band members past and present.
https://www.facebook.com/events/542722949524793/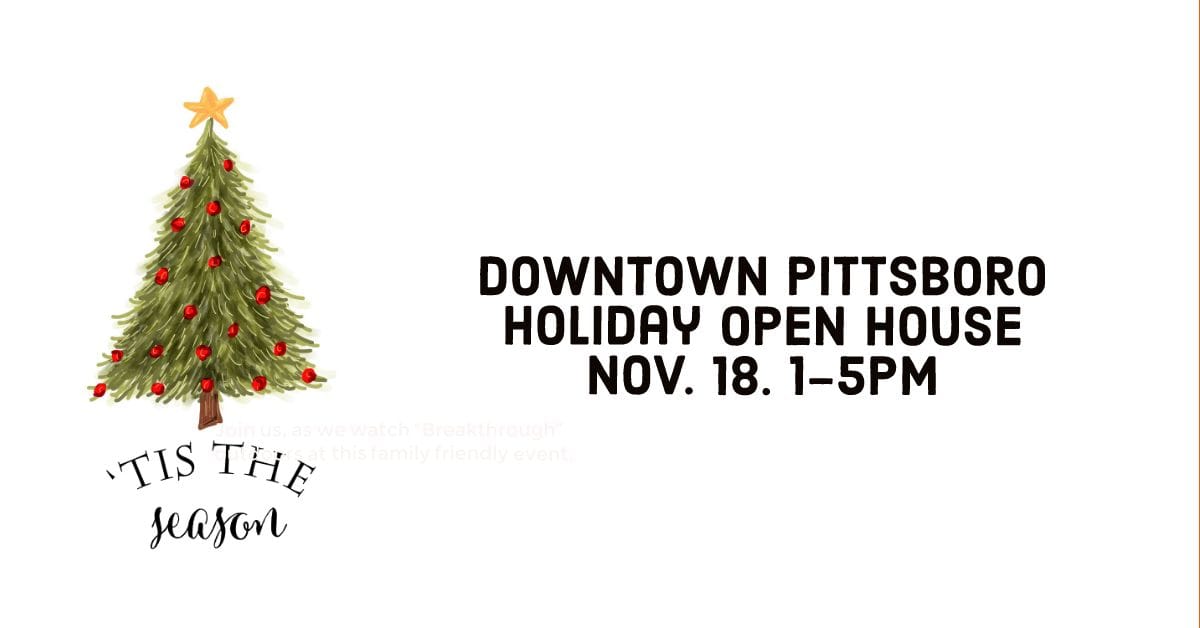 Downtown Pittsboro Holiday Open House
Here is the big holiday season kick off in Pittsboro! Stroll, snack, and shop on
Sunday November 18 from 1-5 in Downtown Pittsboro with joint open house festivities.
Enjoy refreshments, sales, and special promotions. Wear your ugly holiday sweater and be entered into a drawing to win $50 in cash.
Participating shops include: Joyful Jewel, Liquidambar Gallery and Gifts, New Horizons Downtown, Pittsboro Toys, Reclamation, Tommy Edward's Antiques, and Vino Wine Shop.
In addition, The Pittsboro Business Association is proud to present Pittsboro Holly Days, a month-long festival to promote historic downtown Pittsboro this Christmas shopping season!
The celebration starts November 18th from 4-6 p.m. Hillsboro Street will make way for an old-fashioned Christmas celebration featuring school choirs, carolers, Santa Claus, hot cocoa, shopping, and more. Santa visitation starts at 3:30pm.
The festivities will culminate with the lighting of an 18-foot Christmas tree in front of the Historic Chatham County Courthouse.
https://www.facebook.com/events/518669581947254/
In addition to these scheduled events- make sure you are checking on fun holiday events with other Pittsboro businesses such as The City Tap- who provides local live music on a regular basis or The Pittsboro Roadhouse who also has foot stomping goodness on their full stage on a regular basis. Also look for pop up Holiday markets, whether it be your local farmers market or church/civic bazaars.
Lisa Skumpija can help with your Pittsboro, Chatham County and greater Raleigh, NC real estate. Living in Pittsboro, North Carolina and working onsite at the Chapel Ridge, Pittsboro, Fred Couples golf course community makes Lisa your local Chatham County real estate expert. Whether you are buying or selling a home in Chatham County, NC, Lisa Skumpija is a leading real estate agent and can make it a smooth process!