For those of you looking forward to weekend activities, Florence has been a big party crasher! You can expect that any previously scheduled events will be canceled or hopefully postponed in preparation for landfall on Thursday.
SO after the weather has passed and clean-up has subsided, you can fill your social calendar with several amazing events from around the Triangle! The weekend of September 21st– 23rdis full of activities to choose from! Here is a sampling:
Friday the 21st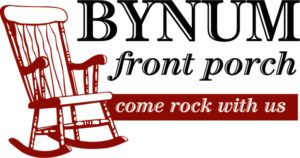 Chatham Rabbits at Bynum Front Porch
7 PM- 9 PM · Bynum Front Porch
In the quaint, retired mill town of Bynum resides the Bynum Front Porch music venue. Once a country store, the Bynum Front Porch now has regular music and storytelling events to draw you back in time to the heyday of the general store era. The Front Porch has added an indoor music event series on Friday night from September to April so come on out and enjoy live music from 7-9PM. Check their Facebook page for the line-up but pop on it to hear this local duet, The Chatham Rabbits as they perform from their newly released album.
4 PM · Duke Lemur Center
The Duke Lemur Center is an amazing ode to the lemurs of Madagascar and a treasure for the Triangle to have to enjoy. While the center does have regular visitor hours with guided tours this is a special all lemur centered evening event for the family to enjoy an open invitation to view the animals and connect with staff and educators. There will be food trucks on hand or you are welcome to bring your own dinner delights. Learn about these adorable creatures, their habitats and conservation of the species.
Saturday the 22nd
12 PM – 5:30 PM· Lake Wheeler Park
It seems to be the season for seafood. If you haven't already had your fill of edible coastal delights, head down to Raleigh to partake in "Low Country Coastal Heritage of outdoor cooking of fresh seafood." This is an all you can eat event will provide fresh Blue Crabs, one side of Fish & Chips, Snow Crab Legs Platter all for the cost of $11-55. Your ticket also includes live music! This event is family friendly sells out fast so buy your ticket today!
12 PM – 4:30 PM · The Plant
It's a Renaissance fair with drinking- that is still family friendly! Expect to witness sword fighting, knights, live music from Thunder and Spice, food from Nazz'd Brew Works Food Truck and Porchetta Food Truck, arts and crafts vendors, fairies, face painting, and more! Vendors will include jewelers, apothecaries, artisans and craftsman, home brewing, clothing design and more. And what Mead Day celebration would be complete without MEAD! Honeygirl Meadery from Durham will be on hand as well tours of the Chatham Cider Works and the new Starrlight Mead Facility located at The Plant. You need to stop in and partake of the delicate, heritage brew that is Mead. Mead is simply wine made with honey and these local craftsmen use only the finest local NC honey in the concoction of delicious and consequently quite boozy adult beverages. Come on out and show your support by sampling a few!
Sunday the 23rd
3 PM – 6 PM· Briar Chapel's Great Meadow Park
The local Pittsboro community group, Abundance NC is excited to bring you the fall Pepperfest! As champions of local, vibrant communities Abundance NC has prepared a line-up of over 60 chefs, distillers, brewers, and culinary artisans with two live bands and of course 800 lbs. of local, organic peppers. This is truly a celebration of our local food community that allows for the tasting of all the amazing food and beverage concoctions as well as a childrens' celebration named Pepperpalooza – "a pavilion with all day arts n' crafts, giant bubbles, kid's sustainability workshops, an aerial silks demo, and even an insane science show!" This festival of Chatham County agriculture and food will also include vendors and live music! Tickets are $5 for kids age 6-12 (under 6 free) and 20 for adults.
In the Heart of the Fire – Forest Theatre, Chapel Hill– All 3 days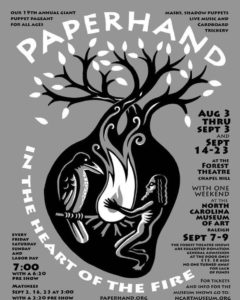 7 PM – 9 PM· Battle Park and Forest Theatre, UNC-Chapel Hill
This by donation only, outdoor theatre spectacular is something for the whole family to partake in. Featuring a design that is circus inspired, the production incorporates dancing, live music and of course larger than life sized puppets. These puppets are painstakingly crafted over the course of the year on the banks of the river in the artisan town of Saxapahaw at Paperhand Puppets. With this weekends' production canceled, make sure you head to the Forest Theatre early to save your seat for this.
Lisa Skumpija can help with your Pittsboro, Chatham County and greater Raleigh, NC real estate. Living in Pittsboro, North Carolina and working onsite at the Chapel Ridge, Pittsboro, Fred Couples golf course community makes Lisa your local Chatham County real estate expert. Whether you are buying or selling a home in Chatham County, NC, Lisa Skumpija is a leading real estate agent and can make it a smooth process!