Saturdays in Siler/Courtyard Coffee's 10th Birthday Party!
Head to downtown Siler City thi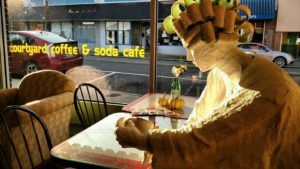 s Saturday, July 21 for the Anniversary Celebration of Courtyard Coffee!
Where: Courtyard Coffee, 223 N Chatham Ave, Siler City, NC 27344
When: Saturday July 21 from 5-9pm
This Celebration comes with cake, ice cream & food trucks! Combined is PAF Gallery Opening for Jake Brower with acoustic music by Sheamus Davey from 6-8 pm.
Bear Creek Brews,
Artisan Food Truck,
Bendito Chicken,
Also from 6-8 pm Siler City Music Series present THC Band, a classic rock band.
July 21st, 2018 Pop-Up Raleigh
Where: 656 Maywood Avenue, Raleigh, North Carolina 27603
When: 12- 5pm
YES a pop up! The word is out so head over to the Trophy Brewery and Taproom on Maywood Avenue for a look at vintage and art inspired items!
You will also find food trucks, beer, sweet treats, fresh popcorn and more for YOU. Over 50 artists and craftspeople from around North Carolina (most from the Raleigh area) and some vintage vendors with a one-of-a-kind clothing and funky finds will set up shop inside and outside the brewery.
This is a kid and dog friendly event, with food and lots of space to hang out. Free parking and admission.
https://www.facebook.com/events/303819570158407/?active_tab=about
Lisa Skumpija can help with your Pittsboro, Chatham County and greater Raleigh, NC real estate. Living in Pittsboro, North Carolina and working onsite at the Chapel Ridge, Pittsboro, Fred Couples golf course community makes Lisa your local Chatham County real estate expert. Whether you are buying or selling a home in Chatham County, NC, Lisa Skumpija is a leading real estate agent and can make it a smooth process!