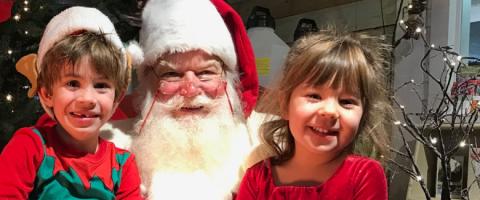 If you have been there and done that with the standard markets, bazaars, tree lightings, etc. this holiday season. Here are two different options for your family activity.
Tired of waiting in those long lines at the mall for your families' photo with Santa? Join the family at Country Farm and Home in Pittsboro for a Santa celebration for the whole family! Country Farm and Home is a family owned feed and seed business in Pittsboro, where you can find your garden products or your horse feed. Their December 16th celebration includes complimentary cocoa, apple cider, & homemade cookies as well as songs and stories by the big guy in red. From 10-1pm this free event provides an unconventional way to get your kids photo with Santa- but bring your own camera!
https://chathamfarmsupply.com/
If you aren't worried about seeing Santa this season you can check out the NC Chinese Lantern Festival in Cary.  You can find this amazing annual event at the Booth Amphitheatre in Cary. It runs from December through January 14th. It's open every day except Mondays, although it is open on Christmas Day and New Year's Day (which are Mondays.) The hours are 6 p.m. to 10 p.m.
The cost is:
Kids 2 and under FREE
Ages 3 – 17 – $10.00
Adults ages 18+ – $15.00
OR check out The Solstice Lantern Walk in Hillsborough. This annual event celebrating the changing of the seasons, takes place on the Riverwalk and you can either participate or watch from several view points along the way. To participate you will need a lantern and the register in advance but anyone can view. This is a silent walk that takes place on Thursday, December 21st, 2017, at 5:45 p.m.
https://www.hillsboroughartscouncil.org/lantern-walk
Lisa Skumpija can help with your Pittsboro, Chatham County and greater Raleigh, NC real estate. Her Chapel Ridge real estate office has really taken off.  Whether you are buying or selling a home in Chatham County, NC, Lisa Skumpija is a leading real estate agent and can make it a smooth process!