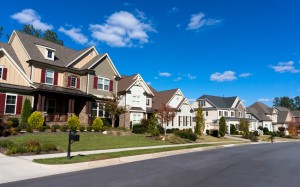 Hello to all of the residents of our wonderful community. I come bearing terrific news as it is again time for our Annual Parade of Homes. This event has been a yearly staple in the area and I'm proud to hold the position of Parade Chair in 2014. My cup runneth over with excitement as we have so many beautiful homes in store for you this go-round. Come on out and join us.
You'll be more than glad that you did!
Take In All of the Beauty
The 31st Annual Parade of Homes is presented by The Home Builders Association of Durham, Orange, & Chatham Counties (HBADOC) and will feature a mind-blowing 56 gorgeous homes with a huge variety of price points and styles to view. The breakdown per area will be 30 homes in Chatham, 18 homes in Durham County, 6 homes in Orange County, and 1 home in Alamance County. It's going to be a Parade indeed!
Remember when viewing the homes to really take a hardy look at them. Note all of the design and architectural cues. This is a great opportunity to learn about home styles and the builders have put a lot of time and effort into showcasing the properties for the public. You may even find your dream home during the event and each home will have a representative there for Q&A. It's no wonder we are consistently ranked as one of America's best places to live.
You're In For a Treat
Many of the homes will includes amenities like energy-efficient lighting and plumbing fixtures, radiant heated floors, WiFi security and stereos, dual water heaters, and several other industry-leading features. The Parade of Homes Committee wants to also acknowledge our great event sponsors (Stock Building Supply and The Herald- Sun) as well as all of the vendors and individuals who put great effort into making this the best Parade yet.
And for my fellow earth-lovers in the crowd, we'll have 21 total homes being verified independently by an accredited third-party and they'll receive the National Green Building Standard (NGBS) certification. This focuses on the following areas:
Site Design
Preparation & Development
Resource Efficiency, Water Efficiency
Energy Efficiency
Indoor Environmental Quality and Operation
Maintenance
Homeowner Education
Save The Date
This wonderful event will be a showcase for homes newly built by local area builders and is completely open for the public so come one, come all. Here are
When: October 4-5, 10-12 and 17-19, 2014
Time: 12Noon – 5pm
Where: Durham County, Alamance County, and Orange County
Cost: FREE (open to the public)
Price Range of Homes: $189,000 to $900,000
I hope your ready for some great afternoons for dream home showings and great discussions. The time is almost here and I'm excited. I look forward to seeing you all there!
Until we meet,
Lisa