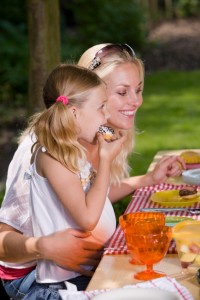 Hello to all the wonderful residents of Fearrington. I would like to cordially invite you and your loved ones to join me for a wonderful evening filled with great people, beautiful pots, and delicious pizza. Bring your appetite and your love of art!
Who: You!
What: Summer Pots & Pizza Party (wood-fired pizza of course!) 
When: Sunday, June 29th @ 5:30- 8:30PM
Where: W. M. Hewitt Pottery (Directions are here.)
Why: This is an annual benefit for Slow Money NC, celebrating 4 years of bringing more sustainably grown food from farms to tables throughout North Carolina!
Come Hungry and Leave Happy
There will be a little bit of everything for you and your family to enjoy. Hold on to your hats. Here's what you'll have to look forward to:
 • All you can eat Capp's Wood-fired Pizza with local garden & farm toppings!
 • Cheese tasting table compliments of artisan aged Piemonte Cheese & Lilly Den Farm's new cheese
• fabulous local fruit salad – blueberries, peaches, etc.
• Dessert table compliments of (soon-to-open-in-Raleigh) Night House Bakery & Cafe
• BYOB – cups, ice, and some soft drinks will be provided
• fast-paced auction of local  " Slow Objects," gift certificates, once in a lifetime experiences & more!
• Great deals on pottery – large and small!  10% of all pottery sales go to the non-profit,  Slow Money NC
• great conversation, fantastic people, yummy food
Fun For a Great Cause
And all of this is only $20. You read that right! Only $20! Come help me celebrate Slow Money NC as they've facilitated over 120 low-interest loans = nearly 1.2 million dollars helping 56 farmers and food businesses in NC. And they are just getting started.
Buy your tickets TODAY – while they last!
Please help fund another year of this meaningful and important work. You are also more than welcome to invite all your friends via their Facebook invitation or by forwarding this blog link.
Keep spreading the word for such a great cause and I'll see you all soon at W.M. Hewitt Pottery!
Until my next post,
Lisa